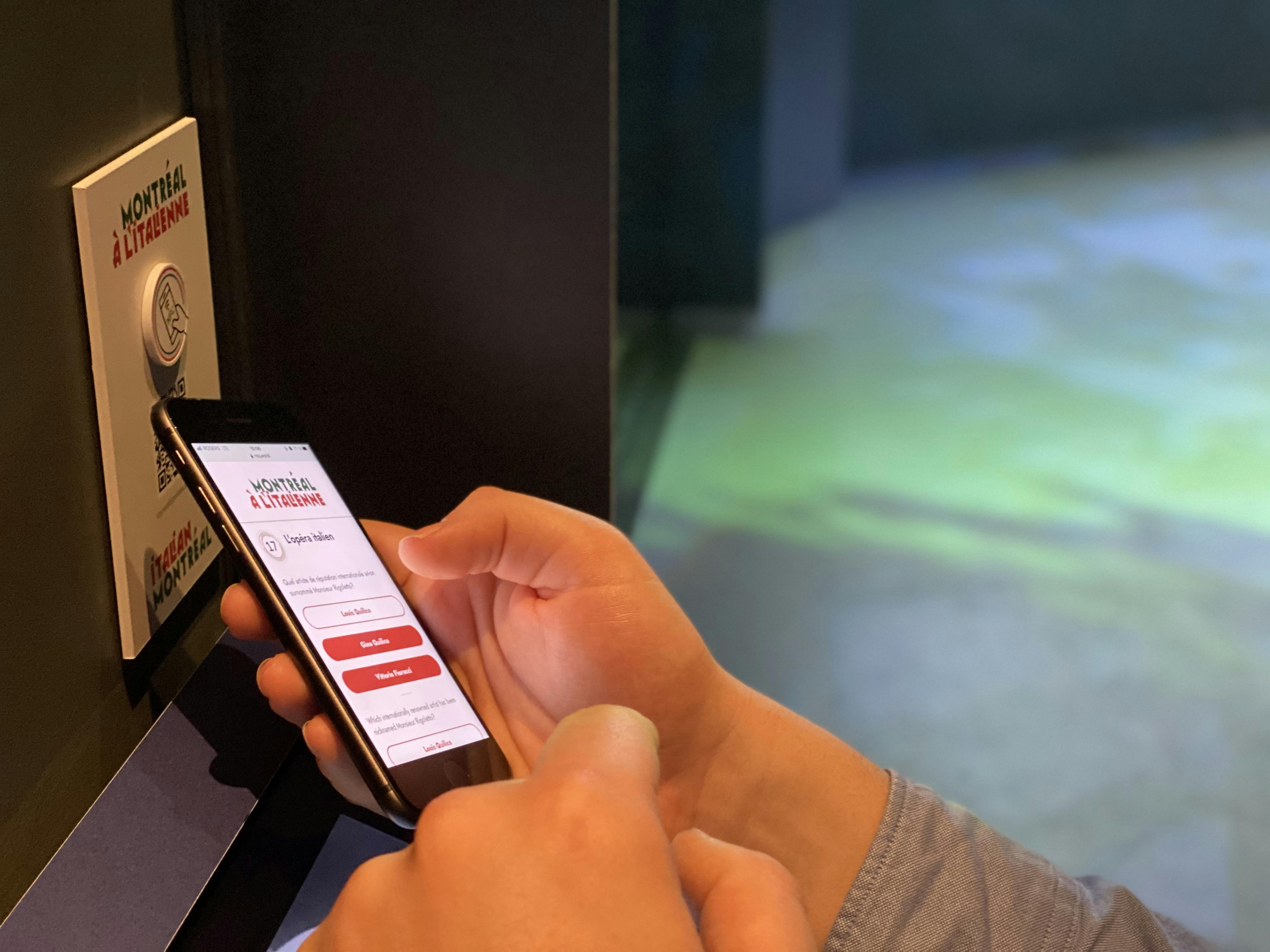 Blog
 / 
Cultural Mediation Tool for Museums and Art Galleries
Cultural Mediation Tool for Museums and Art Galleries
Reinvent museum and art gallery visits with our cultural mediation tool 
The cultural mediator is an essential actor in the transfer of knowledge in museums and art galleries. It acts as a link between the artists, their works and the public thanks to its profound knowledge, for example, on the artist's life or the influences of a work of art. 
At MySmartJourney, we realized that it was possible to improve cultural mediation in museums by offering an innovative contactless experience that allows everyone to discover wonders of the past or present at their own pace and in complete security. Our cultural mediation tool is the perfect solution for you!
Advantages of MySmartJourney's platform for your visitors
The last few years have shown that the contactless approach has become a necessary tool for public spaces, and is probably here to stay. Therefore, it is important for museums and art galleries to adapt. To help them do so, we have developed a platform made of informative microsite, that is easy to customize and accessible from any mobile device!
A powerful, contactless and safe experience for your visitors
One of the great advantages of MySMartJourney's tool is that it is naturally safe for all users. Visitors seeking cultural mediation to learn more about a piece of art or exhibition, such as the life of the artist or specific elements of an art piece, can access information directly on their phones by scanning a QR code found on a plaque. These can be installed anywhere and on most surfaces, and they are entirely customizable! 
Choosing our mediation tool is the perfect way to:
Guarantee a contactless experience for your visitors
Reduce crowds or gatherings caused by traditional museum mediation
Let your visitors explore the art and cultural elements of your museums at any time and at their own pace
Contact us today to see how our solution can help you!
A simple and instinctive platform that eases the experience of your customers and creates an unforgettable experience
The beauty of our tool also comes from its simple and intuitive use! We have chosen microsites rather than developing an app that your visitors will have to download. This brings several benefits to the users of our cultural mediation platform:
They avoid downloading a 100th app on your phone (an approach likely to increases your number of users)
Eliminate the learning curve of a new app and let visitors use their own phone and a familiar web platform
They can easily access information by scanning a QR code, an NFC chip or by using the microsite URL
Choose an affordable option without sacrificing the quality of your service
We strongly believe that our tool offers significant advantages over traditional cultural mediations. The costs of using MySmartJourney are minimal compared to the costs of developing and maintaining an app, and more advantageous than having traditional museum guides. 
Offer personalized and easy-to-access information to your visitors without spending a fortune with our cultural mediation tool!
How does our mediation tool work?
Our tool can be integrated into your operations in a few quick and easy steps, which can be done in advance for a transition that will not affect your visitors' experience.
1. Development of personalized content for your users
MySmartJourney offers you more than a link to a site full of text: it's an opportunity to interact with your users and create a unique experience! You have the option of offering interactive content that will be popular with certain demographics, such as fun and educational content for kids, services such as online ticket sales and more. Simply decide what content you want, write it and integrate it into your microsites, and you're ready to deliver an entertaining and secure experience.
2. Installation of your MySmartJourney Plaques 
Your visitors will access the information through one of three options: they can scan a QR code with their phone, with an NFC chip or by using the URL's microsite. It is therefore important to install the plaques in strategic locations in the museum or art gallery, such as entrance halls and exhibition halls. Our plaques can be installed on most surfaces or objects, allowing you to be creative!
3. And that's it!
You are now ready to launch MySmartJourney's system in your museum or art gallery and provide a unique and safe experience for your visitors! You will be able to easily update or add content as needed. Don't hesitate to contact us if you need support in this process!  
Why is it important to maintain cultural mediation?
Mediation is an essential tool for the transfer of knowledge contained in our museums, and an important factor in attracting visitors
In addition to having a positive effect on people's understanding of the world and the different cultures found in our various museums, cultural mediation allows curators to tailor exhibitions to target certain demographic groups.
By taking advantage of different forms of mediation, such as a contactless, interactive cultural mediation tool, you can tailor the experience you offer to the learning style and interests of your target audience. A great opportunity is to incorporate an interactive educational game program to draw children into art and history, while approaches such as workshops or lectures are well suited for adults and seniors.
MySmartJourney's recent successes in museums, art galleries and historical sites
See how the Sherbrooke History Museum took advantage of the MySmartJourney platform to reopen its doors to the public and offer an innovative and safe experience to Sherbrooke residents!
Would you like to know more about our mediation tool?
Feel free to contact us with your questions or just to talk about what our tool can do for you! We are always ready to discuss your goals and offer help and support in your projects!