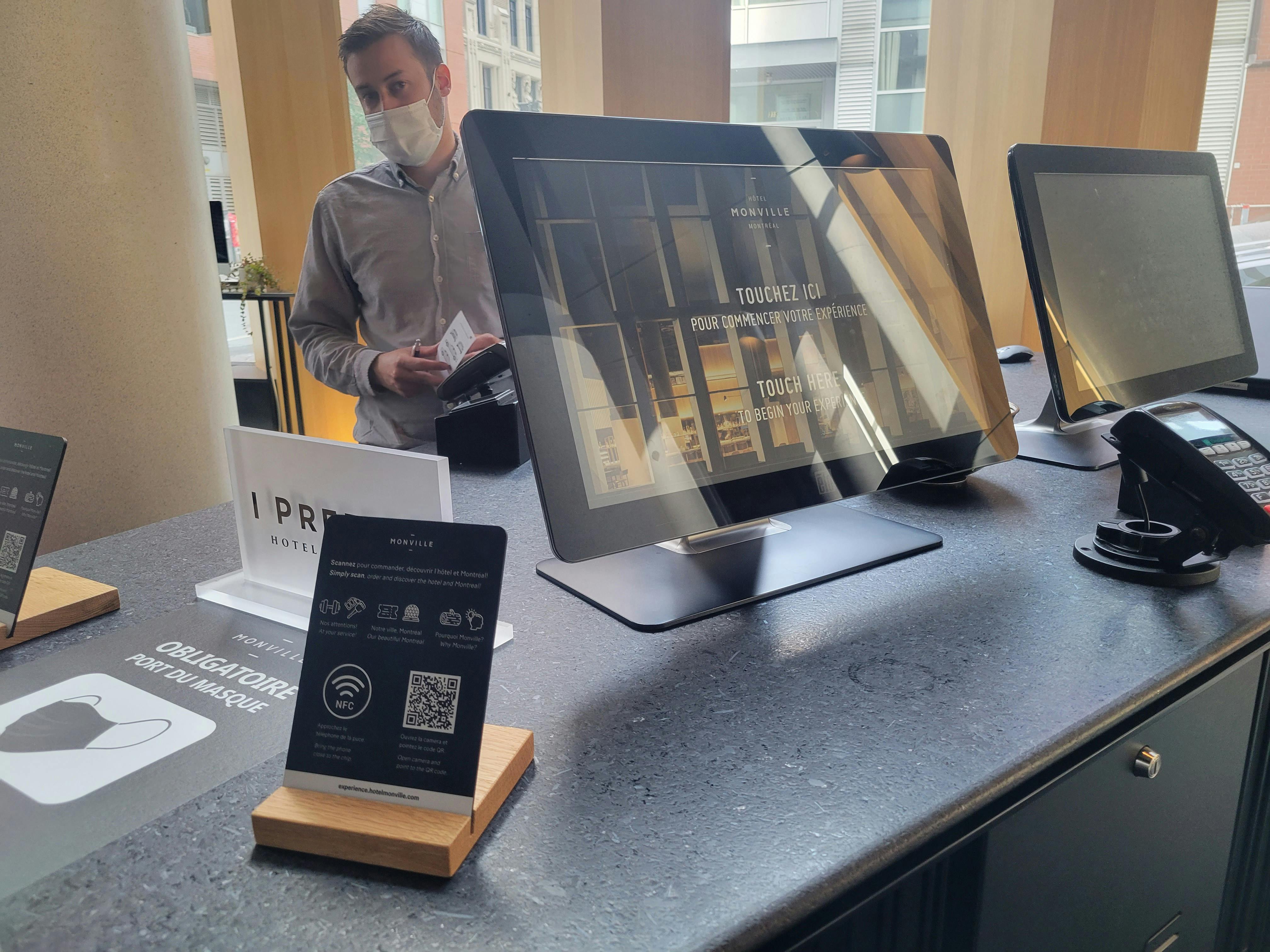 Blog
 / 
Switch to Contactless Hotel Management
Switch to Contactless Hotel Management
The reality of the hotel business has been fundamentally changed in recent years: difficult conditions have forced managers and owners to rethink their operations to ensure the safety of their guests and employees. However, this is not new! The industry was already in a transition phase to contactless service, and the next dominant players will be companies that can adapt through contactless hotel management. Discover why MySmartJourney is the perfect management tool for your business growth and customer experience!
Why Choose MySmartJourney's Platform for Your Hotels?
MySmartJourney's system is the obvious solution to the hospitality industry's requirement to keep both guests and employees safe and to positively impact profits. Our innovative approach puts the emphasis on the use of microsites over options such as mobile apps, focuses on quick setup and seeks to eliminate the user's learning curve. 
Offer a Unique Experience that Your Customers Will Remember and Talk 
Our management system is designed to simplify your guests' lives and allow them to fully enjoy their experience at your hotels. By allowing your guests to control everything from their cell phones, you reduce the stress associated with travel and allow them to enjoy their experience at their own pace. But that's not all! MySmartJourney is value-added to your guests through features like an interactive map showing them local tourist attractions, restaurants to visit or even your hotel partners. Our system provides a complete customer experience! 
We already have several successes under our belt, the most recent being the integration of our platform in the Monville Hotel in Montreal, which perfectly demonstrates the great benefits of using MySmartJourney to manage your properties and the huge potential of our online platform.
Choose an Efficient System at a Fraction of the Cost of Other Management Applications
MySmartJourney decided to use microsites rather than develop an app for many reasons, particularly to minimize costs and make the platform easier to use.
An affordable and efficient management system
We know today that mobile apps are incredible tools for sharing information but, especially when it comes to the hotel industry, they have some downsides. First, the development and maintenance of an app is time consuming and costly for owners, which prevents a quick integration into their operations. Secondly, your customers will be forced to download (yet again) a new app to use your services, which is far from ideal: many don't like having to download and others fear for the security of their information. 
The use of microsites is therefore the perfect solution for a management platform! The development costs of microsites are minimal when compared to an app, without sacrificing performance. Microsites are easily accessible by scanning a QR code, a microchip or by using a URL, and obviously they require no download. This is likely to increase the number of customers who use your platform, whether to check in in advance or to use the room service.
FIND OUT MORE ABOUT OUR PLATFORM
Make the transition to contactless management
MySmartJourney's platform, thanks to its use of microsites, is integrated into your operations quickly and seamlessly! 
The preparation for our platform consists of creating the content for your pages: examples could be a page to check in ahead of time instead of going to the counter, one to order drinks at your room or even to request new towels. This step can be done without impacting the management of your current operations, you will simply have to make the transition at your convenience!
Once your pages are ready, you will have to install the informative plaques in strategic locations in the hotel, such as in the lobby and in the rooms. Your customers will simply have to scan the code on the plaque and that's it! The transition to our platform can be done in a few days, which gives you a significant advantage.
Choose a management that will guarantee the safety of your hotel guests and employees
Address a growing need for travellers to feel safe during their stay by offering a contactless solution
Safety and hygiene are now a priority for many: restaurants, stores, hotels and many others. But when it comes to hotels, whose main activity is to accommodate visitors from all over the world, it's more than a priority, it's a necessity! The best solution is to minimize direct contact between people by using a contactless management system. 
With our contactless services, your customers will be able to avoid situations that might make them uncomfortable or stressed, such as standing close to other travellers in a line or interacting with your staff. They can now do all this from their own cell phone or computer, without having to touch anything. The perfect solution for peace of mind.
The well-being of your employees is also essential, and our platform helps keep them safe. It allows you to separate your team into different departments and minimizes contact outside of those departments, which reduces the risk of contagion if one of your employees is sick. By protecting your workers, you will also protect your customers and contribute to their experience in your establishment!
How does MySmartJourney's hotel management system work?
Take advantage of a platform that integrates seamlessly into your hotel's operations
The advantage offered by MySmartJourney is in its simplicity, as much for you as for your future customers. Here are the steps to follow to prepare your platform, which can be done quickly without impacting your current operations:
1. Choose what you want to display on your platform
MySmartJourney's platform is ideal for many different services offered by hotels, whether it's room service, souvenir shops, or contactless check-in. You'll need to choose what you want to have on your platform before moving on to content.
2. Content creation
Our platform works with informative or service-oriented pages, so you will need to develop content for all of its pages. For example, if you're writing a page for your room service, that page might have a form that sends you customer orders via email. If it's just an informative page, such as local attractions, focus on presenting interesting content!
3. Installation of MySmartJourney plaques
Your guests will access your pages through one of three options: they can scan a QR code using their phone, with an RFID chip or by using the microsite URL. To do so, you'll need to place MySmartJourney's signs in strategic areas of your hotel, such as rooms and lobbies. These are available in small and large sizes to suit your taste and can be installed on most surfaces or objects, allowing you to be creative!
4. And that's it!
You are now ready to launch MySmartJourney's system in your hotel and give your guests a unique and safe contactless hotel management experience! You will be able to easily update or add content as needed. Don't hesitate to contact us if you need support in this process!