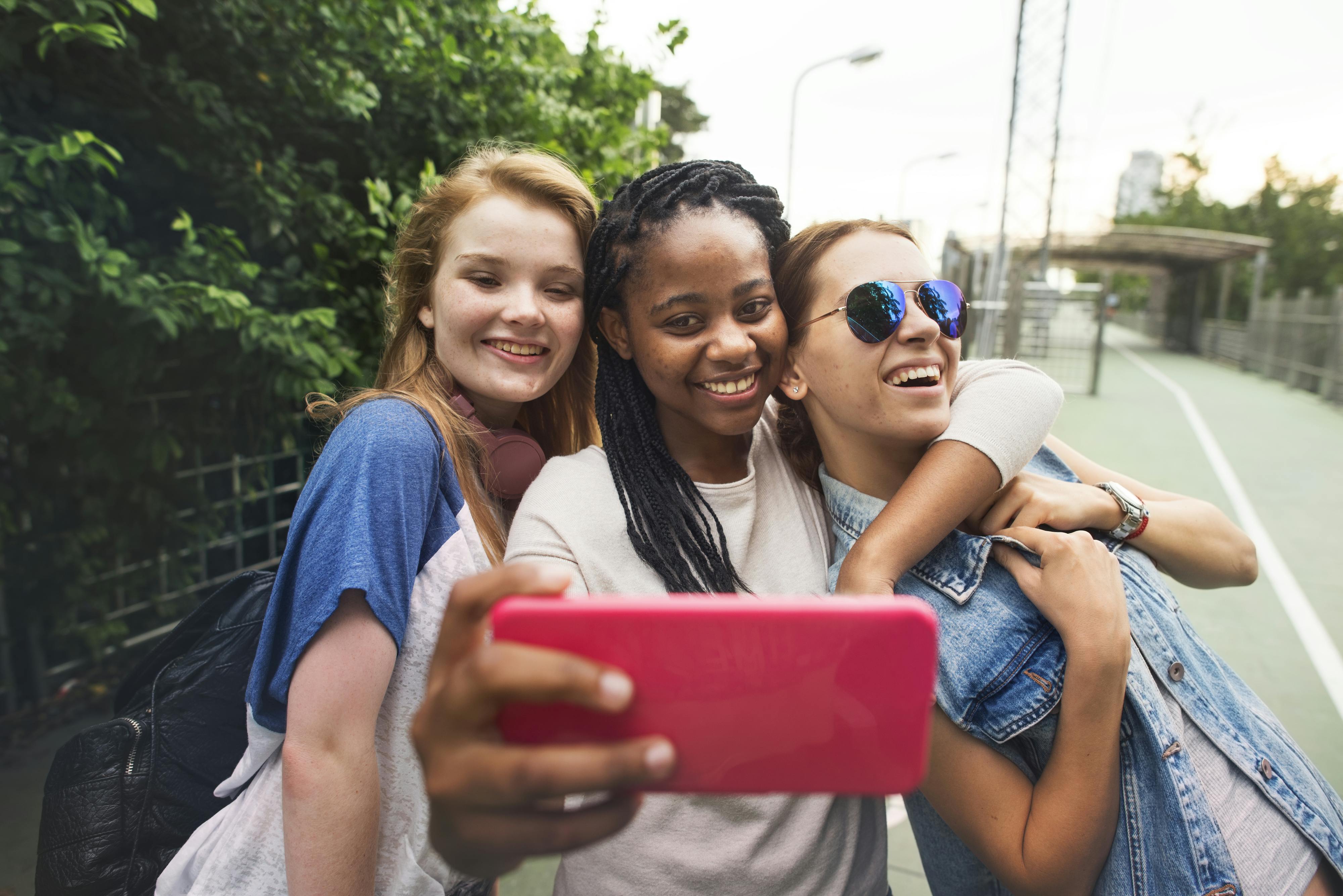 Blog
 / 
MySmartJourney's Selfie Booth
MySmartJourney's Selfie Booth
MySmartJourney is a digital content management platform that provides a simple and intuitive solution for creating interactive multimedia experiences in public spaces. It can be used to enhance the customer experience, provide statistics on visitor behavior, boost visibility on social networks and manage queues, among other things. Our tool is fast and easy to use, all in a low cost per visitor formula.
Our goal is to make the user's experience as memorable as possible thanks to the various tools and functionalities of our platform that are specific to the animation of a public place. Contactless technology can be deployed on all devices, allowing you to let your imagination run wild in order to invent experiences and create memorable links with your customers or visitors.
What is the Selfie Booth?
The Selfie Booth is aMySmartJourney initiative that allows the user to create souvenir photos and share them on social networks. In an innovative and dynamic way, this feature encourages the tourism and cultural manager to actively participate in the design of the visitor journey. They can personalize the memory that the visitor will keep of his experience, thanks to this photo souvenir.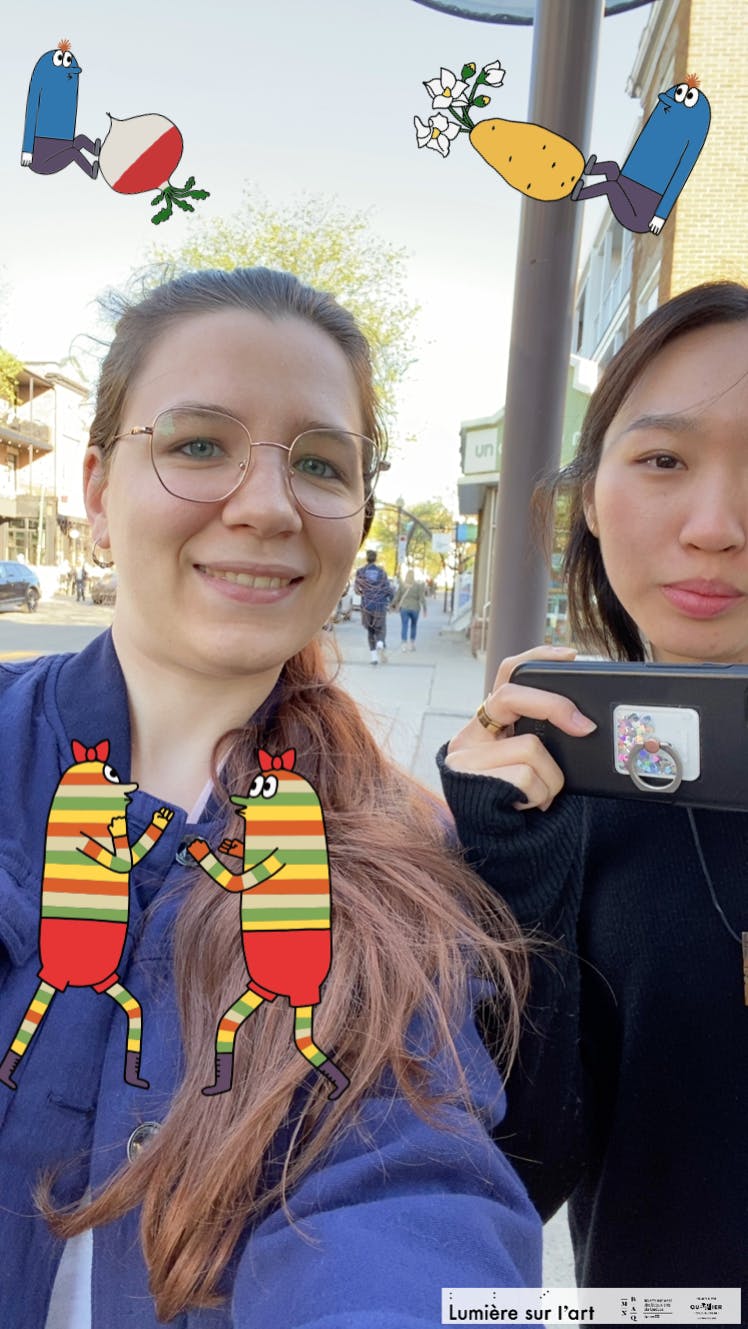 The Selfie Booth offers the visitor the possibility to personalize their photo by adding a watermark of the organization's logo and stickers. They can share their photo on their personal Facebook page as a testimony of their experience or as a souvenir.
With the rise of information and communication technology, it is important for cultural and tourism institutions to develop their customer journey in order to feed the evolving needs of their audience, seasons, political pressures. 
Guide to digital cultural mediation
What is the advantage of the Selfie Booth feature for businesses?
The Selfie Booth feature allows companies to provide customers with a variety of personalization options specific to their brand. When users of a company's website or visitors to a museum or even a national park use this feature, they are helping to create the company's brand image and participate in the collective marketing effort.
Thanks to the Selfie Booth, each user has the opportunity to create a personalized and unique photo that will mark the experience with your brand or institution. This memory can then be shared through various social networks such as Facebook, Twitter, LinkedIn, etc.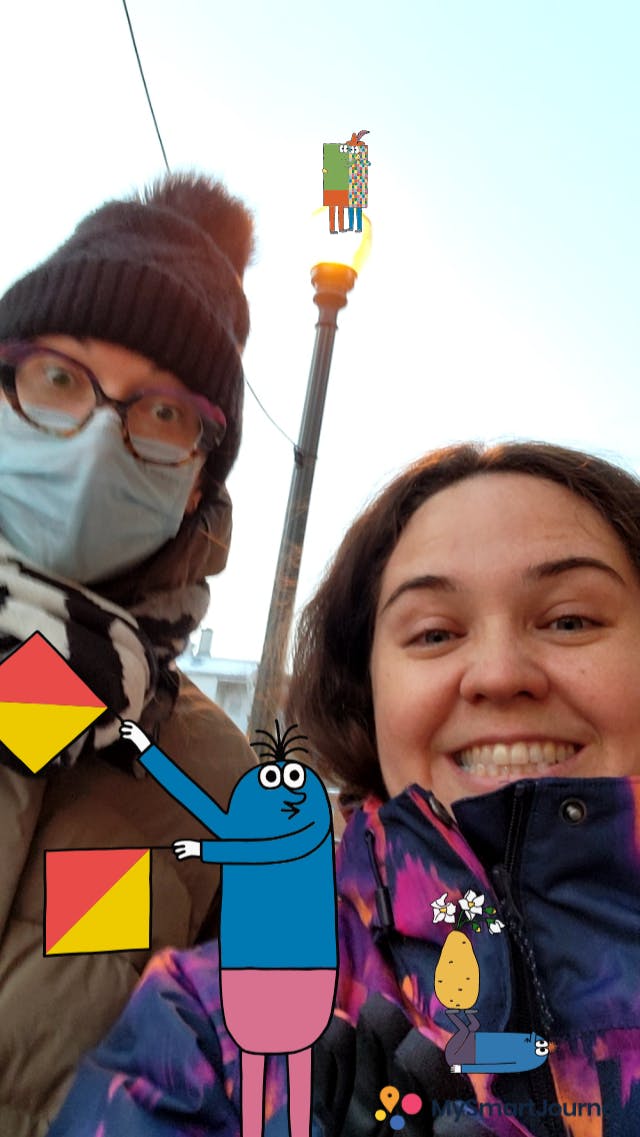 This publication, accompanied by a caption and a hashtag, will link to a direct promotion of the experience, thus encouraging more people to try your experience. Thus, the user is no longer just a passive consumer, but becomes an important pillar in the marketing strategy by giving visibility to the company through its networks.
Whether it's a museum, an art gallery, a hotel or a city park, this feature maximizes visitor engagement and optimizes satisfaction. The Selfie Booth also fits perfectly into a phygital marketing approach that promotes brand loyalty while giving a real and entertaining dimension to the digital journey.
Phygital marketing as a strategy to connect travelers
Does the Selfie Booth save pictures?
The Selfie Booth is a tool that can be used in many ways. Users can choose to save the photos, upload them to their mobile devices or share them through various social media platforms such as Facebook, Twitter, LinkedIn, etc. 
How museums benefit from QR and NFC technologies
How do I create a memory with the Selfie Booth?
To create a memory on the Selfie Booth, simply access the appropriate link through the QR Codes and NFC tokens provided and use this tool to upload a photo or take a new one. Once the photo is taken, you can make various modifications to incorporate stickers to create a special look. These photos, once shared on social networks, include a link to the MySmartJourney platform showing a free advertisement from the client.
Personalize your photos with MySmartJourney
MySmartJourney offers the ability to create interactive experiences for art galleries, historical sites, museums, hotels, etc. to enhance their customer journey. We provide our clients with several features, such as the Selfie Booth, which allows you to create personalized photos.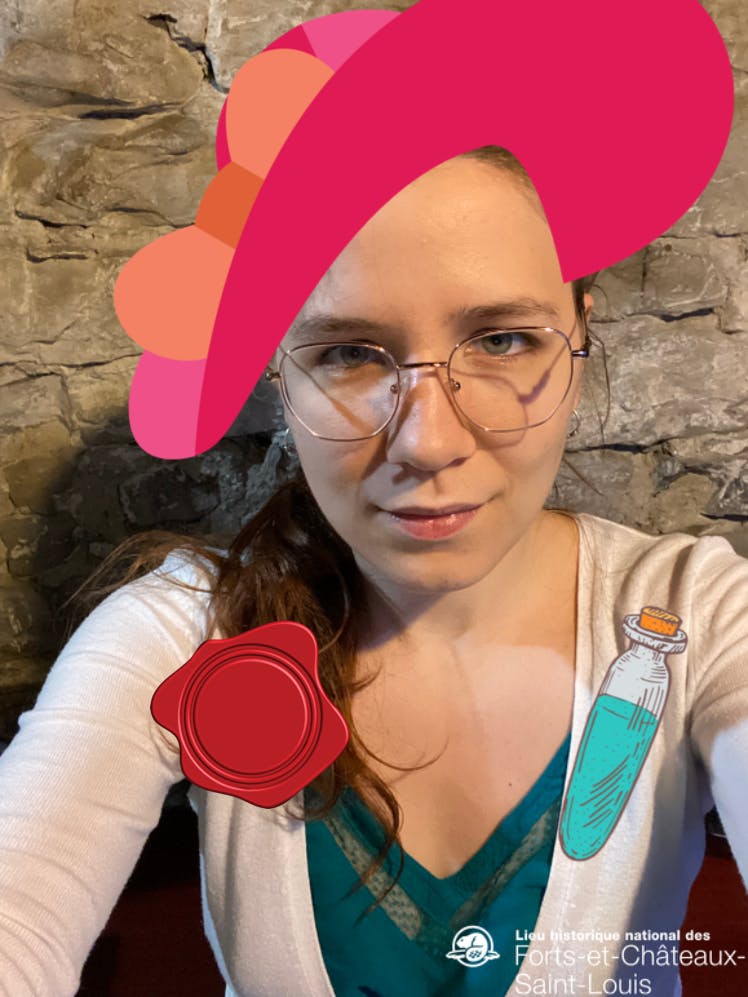 It is a simple-to-use tool that allows you to take or upload photos and then make the appropriate changes to create memorable souvenirs. Merging the physical world with the digital world becomes child's play, but above all an accessible tool to entertain, educate and amuse your visitors and customers.
Discover our other articles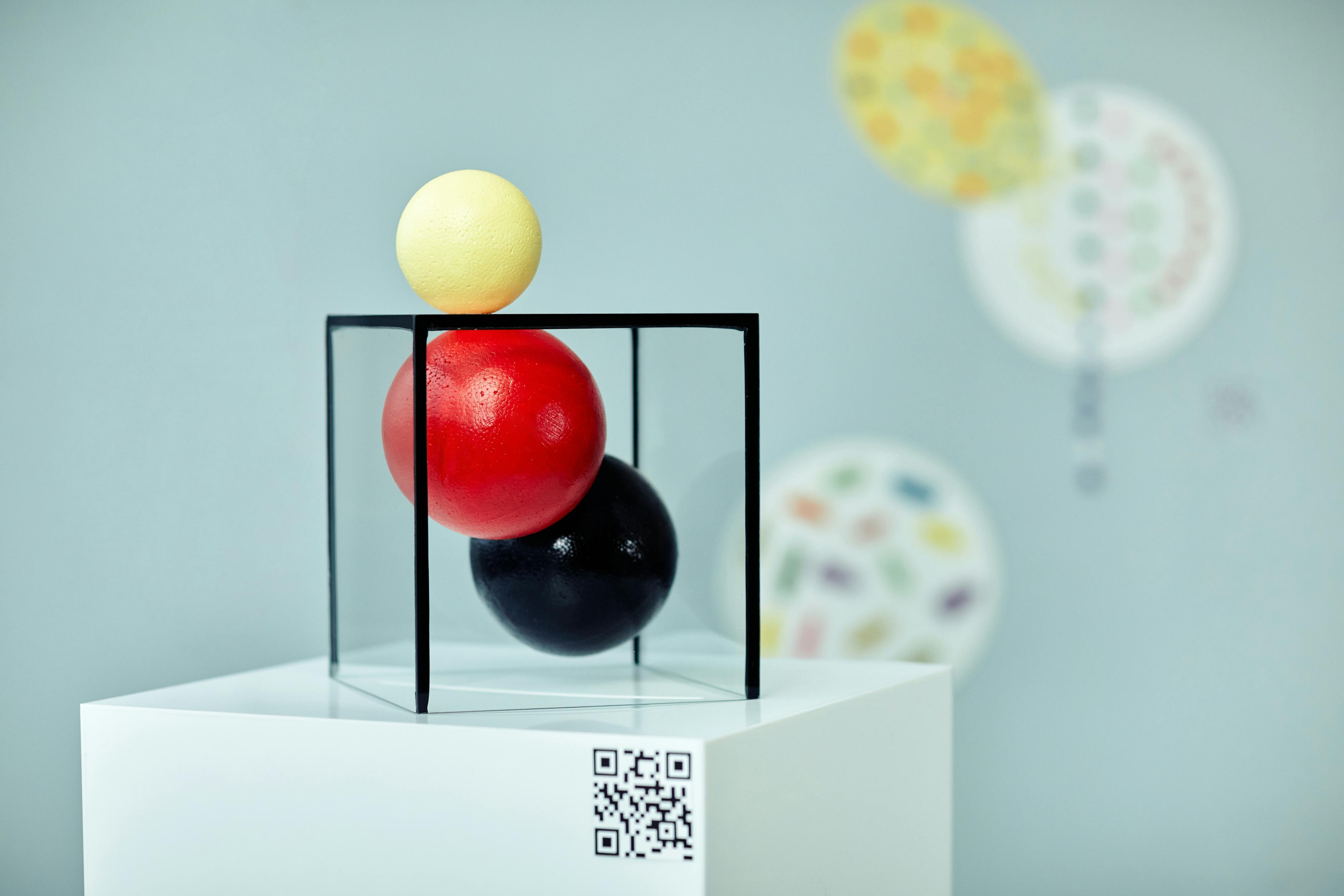 Guide to digital cultural mediation
In the era of the digital revolution, museums and cultural sites are facing important challenges. The question is how to take advantage of technological innovation to bring the visitor into close contact with heritage. Digital cultural mediation projects are part of this approach and offer avenues for proposing interactive and attractive content to a new audience that is familiar with digital tools.
What is digital cultural mediation?
Cultural mediation consists of establishing spaces for dialogue between the participants in a cultural experience, the artists and the cultural organization. It aims to stimulate public participation in cultural life in order to encourage forms of personal and collective appropriation.
Digital cultural mediation is defined as a set of digital technologies and computer supports implemented in physical or virtual places to meet the objectives of cultural mediation. It is important to distinguish between the use of digital technology to create traditional presentation objects such as digitized guidebooks in PDF format or audio guides and forms that exploit digital technology to create an interactive interface between the user and the cultural content. 
In this second case, it is an aid to the visit. These digital mediation devices are developed through computer programming using networks and software applications such as websites, mobile applications and social networks, and different media forms (image, video, text and audio).
What are the challenges of digital cultural mediation?
The development of information and communication technology (ICT) is a major challenge for cultural institutions. Digital mediation is increasingly appreciated and used by a wide category of the public, including single people, elderly couples, young people and teenagers. Multimedia tools complement the traditional text-based narrative. This leads us to ask some fundamental questions:
How to enhance cultural content through digital devices?
How can digital technology be used to serve the visitor and the educational discourse?
What impact will digital mediation have on the visitor's experience of a museum or other cultural site?
The difference between teaching and cultural mediation
Museums and cultural sites are ideal places for learning and discovering historical and artistic heritage. Teaching through cultural visits provides useful information for learners to better understand museum collections or works of art. This is in addition to transmissions based on static documents or the intervention of a guide-lecturer to create a friendly atmosphere between the visitor and the cultural environment.
Cultural mediation aims to make the educational experience more dynamic and active by acting on emotions and feelings. Cultural mediation activities should:
Accompany the visitor throughout the learning process;
Reinforce the visitor's motivation to learn by himself;
Stimulate critical thinking;
Create a pleasure of learning;
Adapt to the various expectations of visitors.
How to implement cultural mediation in museums?
From cultural mediation to digital mediation
In order to strengthen the links between the public and the cultural space, it is important to make the visitor's journey more attractive and immersive. Static observation of a work of art or cultural heritage can lead to a form of passivity despite the presence of content written on a label or the distribution of audio guides.
Digital mediation is at the service of cultural mediation. It fully engages the visitor through interactive screens, QR codes, NFC technology and applications that engage users to explore, search, compare, feel, act and express themselves. Digital mediation practices offer an excellent opportunity to activate perceptual memory.
Digital mediation in museums
Cultural mediation devices are evolving to take advantage of technological development. They can be classified into two types:
Mobile tools that accompany visitors throughout their visit (web applications, NFC technology, etc.);
Fixed tools installed such as tactile tables, lighting devices, video projections, etc.);
Digital mediation also includes fun activities such as games to animate the visit of children or virtual logbooks to keep n unforgettable memory of the visit. There are many ways to create a new experience in a museum. The common interest is to help the public to appropriate the work, the place and to explore its history. Augmented reality (AR) is one of the most popular modern digital devices. However, there are many other effective techniques for achieving these goals.
Discover the historical context of heritage in augmented reality
AR makes it possible to restore missing elements of historical heritage and make them visible in 3D. This facilitates the understanding of the significance of physical monuments (buildings, collections of objects, works of art, archives, etc.) as well as aspects of intangible heritage (languages, ways of life, skills, beliefs, customs, etc.).
Revealing the secrets of a work of art with augmented reality
Through applications designed for digital arts, AR allows the visitor to discover a work of art in depth by focusing on its size, the identity of its characters, its artistic complexity and its symbol. It is a unique audiovisual experience that immerses the visitor in the universe of the artwork.
What kind of organizations benefit from digital cultural mediation?
Digital cultural mediation is integrated in different places and sectors of activity. It serves as a tool for social inclusion and for integrating the arts into public environments to make them more enjoyable. 
As an example, here is a list of organizations that benefit from digital cultural mediation:
Cultural institutions: libraries, cultural centres, art galleries, etc;
Museums and heritage institutions: museums, historic castles, cathedrals, archaeological sites, etc;
Schools;
And so on.
Examples of innovative digital cultural mediation tools
Many cultural venues around the world have invested in innovative digital cultural mediation tools to make their visit memorable and unique:
QR codes and NFC chips to access the content of the city of Le Mans and learn more about its historical heritage;
The "Our Territory, Our Identities" digital platform" digital platform digital platform, co-created with five school boards to showcase cultural objects and collections from the Bibliothèque et Archives nationales du Québec (BAnQ). The platform is mainly intended for teachers;
Mobile applications like the American Museum of Natural History in New York;
A 3D video game designed to make young people discover the Egyptian collections in the Royal Museum of Mariemont in Belgium;
The interactive holograms of the Museum of Illusion in Madrid;
The Escapes games of the Henri Dupuis Museum in Saint-Omer, the Mucem in Marseille or the Rijksmuseum in Amsterdam;
The Histopad used to visit the Palace of the Popes in Avignon, the Chambord castle and the Conciergerie in Paris. The tool is wonderful to project yourself into medieval life by moving the tablet in the majestic rooms of the castles;
Virtual visits of the Louvre Lens thanks to the Uby robot;
The immersive sound trail at the Château de Vaux-le-Vicomte in Maincy, Paris
The visit of the Hôtel de la Marine through the Confident connected headset with binaural sound technology, Paris;
The immersive 4D films of the Cité du Volcan on Reunion Island, a French department in the Indian Ocean;
The rediscovery of Vermeer's artistic painting The Girl with the Pearl (1665) using X-rays to reveal details of the original design of the work;
An entirely digital exhibition created by the Arab World Institute to resurrect the thousand-year-old sites of Palmyra, Aleppo (Syria) and Mosul (Iraq) and explore the history of the Middle East.
Other digital cultural mediation devices
NFC technology
Proximity communication technology allows data to be exchanged between two devices, such as an interactive kiosk and a mobile phone, using a small chip. NFC technology offers access to contactless content via an Internet connection and in complete security.
QR codes
The QR code is a type of two-dimensional barcode. It can be read on a mobile device to quickly trigger an action such as visiting a website, displaying a phone number or making a payment, among others. 
Video mapping
Video mapping is a technique that consists of projecting light onto static objects to create an optical illusion. Video projection on monuments is the best known form of video mapping.
Virtual reality 
Virtual reality is a technology that uses a dedicated headset to immerse oneself in audiovisual content in 3D and with a 360° perspective that simulates reality.
Do you have a digital cultural mediation project in mind?
MySmartJourney is a digital platform specialized in the creation of digital cultural mediation projects. We use simple and interactive technological devices to make your visitors' journey enjoyable, entertaining and useful. Our goal is to provide visitors with a memorable experience and to encourage them to revisit and share your cultural site.
Read the article