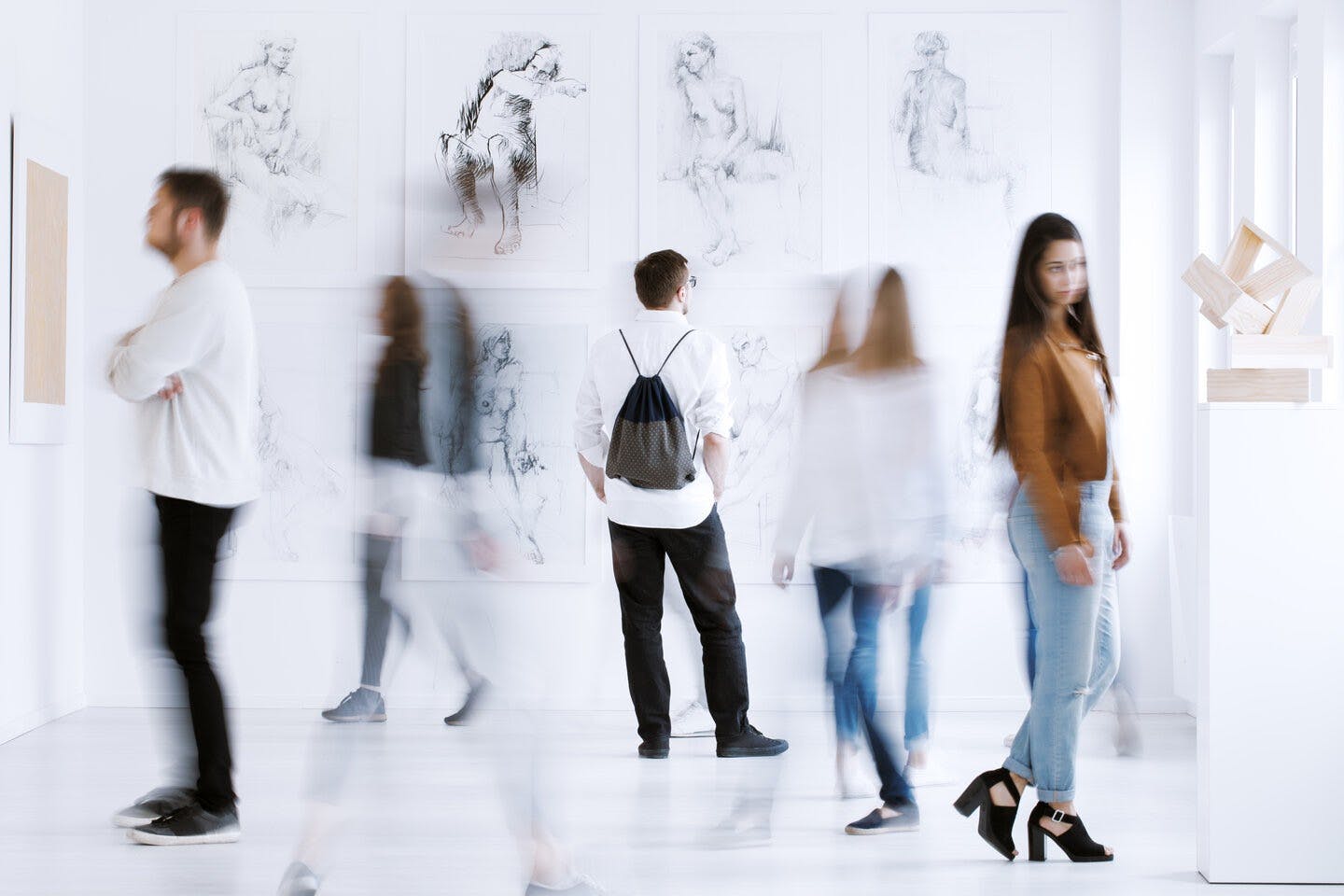 Blog
 / 
What exactly is cultural mediation ?
What exactly is cultural mediation ?
What does cultural mediation mean?
Cultural mediation in the process of connecting individuals with other cultures in a seamless and informative manner. 
We, as humans, have a wide range of connections to various cultures and societies, which are not always easy to identify and decipher within the wider context of our lives and the world. 
The social environments that we have the opportunity to be exposed to propose intriguing and exciting possibilities, but these possibilities are not always easy to grasp and understand. That is where cultural mediation comes in. Cultural mediation is the process of helping individuals fully comprehend alternative cultures through involvement and participation. 
Cultural mediation is integral in supporting people on their journey to understand other cultural norms and encourage cross cultural coherence. Different social environments create different boundaries and modes of knowledge. Cultural mediation works to bring together these concepts of cultural difference to enhance understanding and acceptance across boundaries.
What does a cultural mediator do?
Unsurprisingly, cultural mediators bring together ideas of culture and mediation in order to facilitate cultural development and cohesion. Ultimately, cultural mediators work as a source of knowledge as they convey information between two or more cultural sources with great ease and accuracy. 
In addition to creating coherence between parties, individuals and cultures, they also facilitate dispute resolution in order to promote clarity and unity. They have a deep well of knowledge and are easily able to recall information in order to explain concepts of cultural norms and differences. Moreover, they are often proficient in different languages so they can ease comprehension between different parties, individuals and cultures. 
Although cultural mediators can be real life individuals, in this 21st century setting, cultural mediation has also transferred into the digital world. Businesses and web interfaces have been developed in order to allow cultural mediation to bridge the gap between the physical and digital world. 
Cultural mediation has evolved into the digital sphere
How does Vygotsky's theory explain cultural differences?
An individual who has been influential in the world of cultural understanding and difference is Vygotsky. He devised the Vygoatskian principle to explain the concepts behind cultural mediation. 
The Vygotskyian principle emphasises the importance of tools and signs in developing our cognitive functions. According to his theory, the tools and signs that we encounter throughout society become internalized and inform the development of our everyday abilities, such as learning, problem solving and memory. This therefore means that society and culture are the mediators for our abilities. 
Vygotsky focuses on the development of children's cognition in order to best demonstrate his theory. If you think about the process of how children learn, his theory becomes easier to grasp. It can be broken down as follows:
Children begin with very little knowledge about the world around them.
As they grow, they begin to form opinions, beliefs, critical thinking and problem solving skills.
They acquire these skills by observing the world around them and asking questions.
These observations and answers are internalized and eventually form a child's understanding of the world around him, and enhances a plethora of their abilities. 
Vygotsky's theory highlights the importance of mediators in developing understanding in children, which can also be translated into the importance of understanding across cultures within adults. Although adults are fully competent in understanding their own cultural beliefs and systems, they are not so competent in others. 
Therefore, a similar process is at work in cultural mediation amongst adults. Adults observe other cultures and internalize behaviours and modes of thinking that align with these differing cultures. 
Art and cultural mediation
Cultural mediation's interaction with art is an important one, as it allows for an exchange of meaning and significance within artwork, which makes it more accessible to a wider group of people. Art is an extremely creative medium, and cultural mediation allows this creativity to thrive as it promotes an exchange in knowledge and exploration of works of art. 
Although a comprehensive understanding of the culture and context that surrounds a piece of work is not required to appreciate the content of the piece, it can help to enhance your experience of the art. Whether you have a particular interest in a specific piece of art, or a broader interest in the world of art, cultural mediation can help you understand as much as possible in order to get the most out of it. 
Art and cultural mediation go hand in hand.
Why is cultural mediation important for museums?
As highlighted, an in-depth knowledge of art, including a well rounded and comprehensive breakdown of the cultural background of pieces is integral in order to compose an all encompassing understanding of the art. 
That need for substantial background knowledge translates into a necessity for cultural mediation within museums in order to ensure visitors are provided with everything they need in order to enjoy their visit as much as possible.
Here are some key reasons to implement cultural mediation in your museum :
1. Helps you connect with visitors
Hiring cultural mediators will inevitably improve your connection to visitors as it creates a more personal experience for them as they make their way through the museum. 
As much as museums are brilliant sources for individuals to feel cultured as they slowly build knowledge and understanding on a plethora of different things, the inherent set up of a museum can often prove to be dreary and in some cases overwhelming. 
Since there is so much information available within a museum, it is easy to get lost in it all, which can sometimes counteract everything that you are meant to be enjoying. Integrating cultural mediators throughout the museum can help to mitigate this. If visitors find it difficult to concentrate, understand or fully appreciate what is in front of them, mediators can step in and offer to help.
2. Provides fast answers
Implementing cultural mediation technology or in person cultural mediators allows your visitors easy and instantaneous access to resources. The ability to quickly answer the questions of your visitors is integral in maintaining maximum engagement. 
3. Opportunity to create unique experiences
Cultural mediation comes in many different forms. From digitally interactive information points, to cultural mediator led workshops, there are an endless number of ways to provide information.
Understanding your target market and specifying your methods of cultural mediation will help your museum maintain maximum interest from your guests. For example, if the museum caters to children, you could create a digital game that visitors participate in throughout their journey around the museum. 
Each attraction has an accompanying digital feature that lets you learn more about the attraction and earn some points. If you have a more sophisticated target audience, maybe introduce some lectures throughout the day to provide even more background knowledge to your exhibit. 
There are a multitude of ways that you can incorporate cultural mediation into your museum. Any way that you can develop and expand an individual's understanding of your exhibition is a form of cultural mediation, so feel free to be creative and ensure it caters to your visitors.
4. Makes it more accessible 
The format of a traditional museum isn't necessarily accessible to all. However, by implementing cultural mediation practices you can ensure your museum is able to reach as many people as possible.
As mentioned, there are different forms of cultural mediation so you can provide access to your expertise and knowledge surrounding your museum and its exhibits in the digital sphere. This can then be utilized by those unable to physically visit your museum, whilst still providing them with a gateway to understanding more about the pieces they are interested in. 
Discover our other articles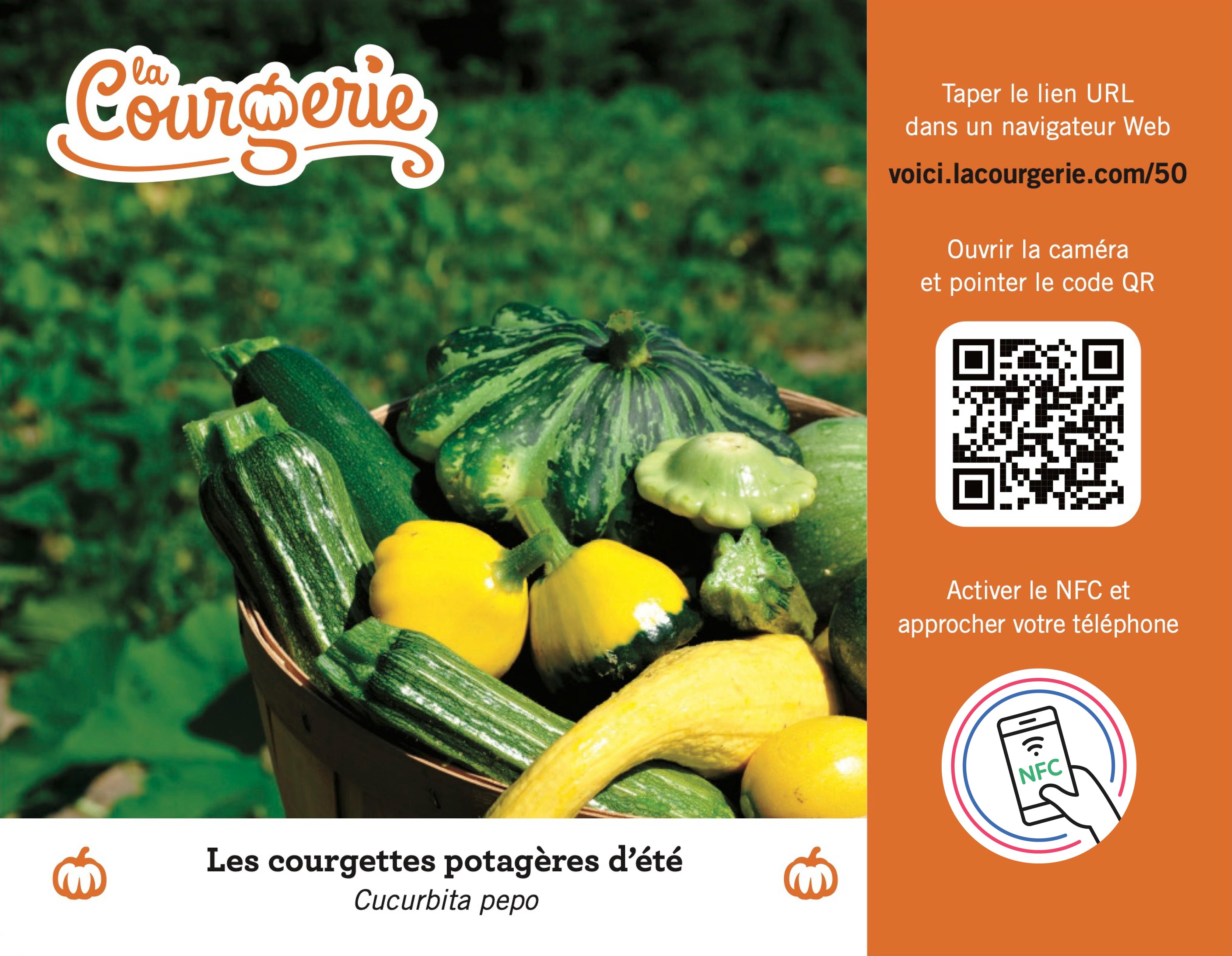 Whether it's attracting visitors to a historical site, guiding hikers along a walking trail or increasing sales at a commercial establishment, delivering rich and unique content is a key element in enhancing your organization's communication strategy.
To this end, the creation of an interactive poster based on technological innovation is advantageous, especially with the massive use of smart devices and the promotion of contactless communication due to Covid-19. 
The main components of a communicative and interactive poster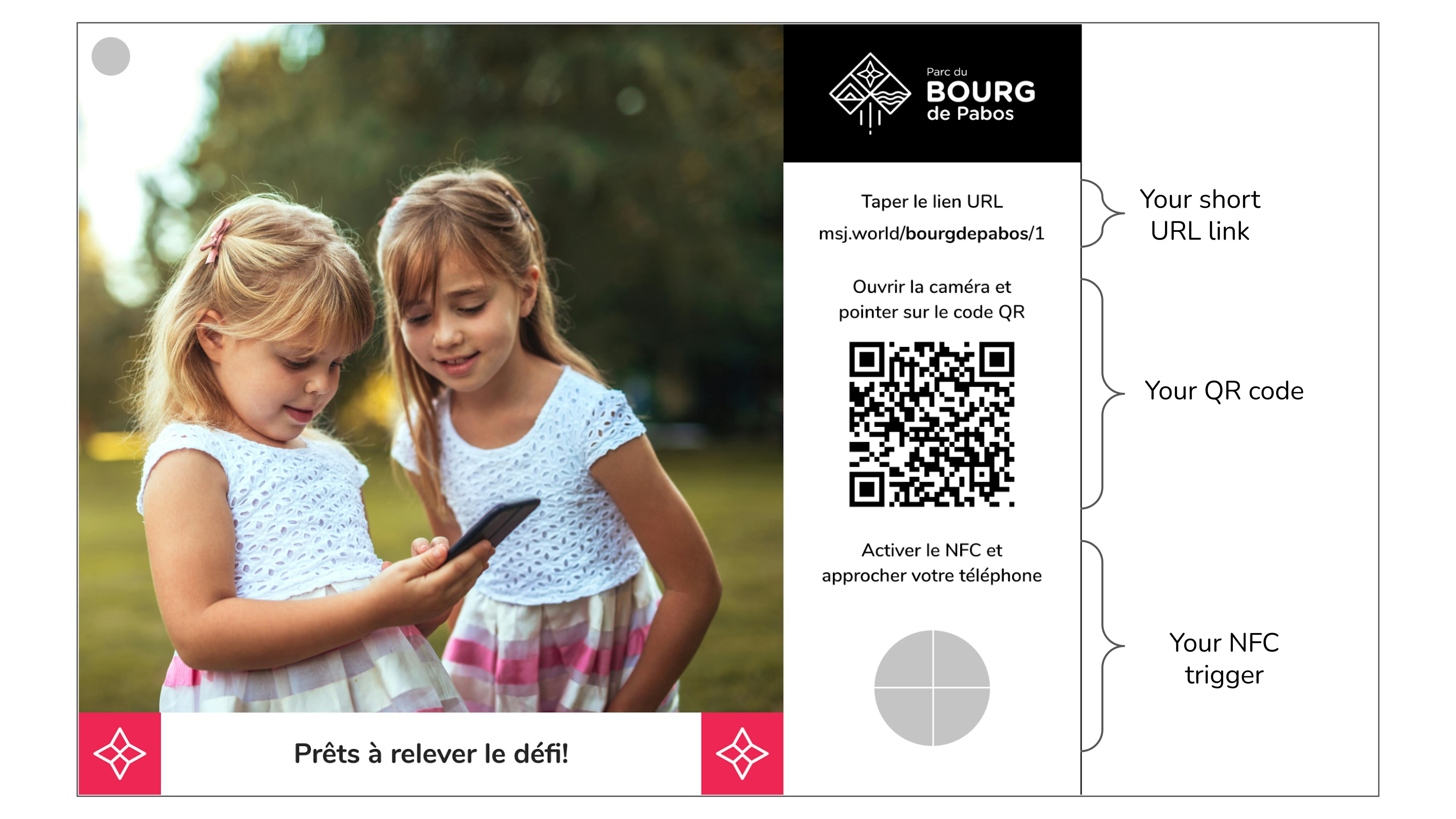 A communicative and interactive poster makes the experience tangible and serves as a physical point of interest. It contains the following elements:
Facilitate access to content:
A QR code: it is a 2-dimensional code that allows to encode data. It is often used to identify a product or navigate to a web page;
An NFC tag is an adhesive label containing a chip that allows a small amount of information to be exchanged with a wireless device. It is often used for contactless payments, but it also allows the exchange of information;
A short URL: this is a short web address that can be typed quickly on the device to access a web page. It is especially useful for devices that cannot read QR codes and NFC tags.
Draw visitors' attention to value-added information:
The logo: it is a key element to build the visual identity of your organization and distinguish yourself from your competitors.
Short textual content: a title and a short sentence should concisely describe the content to be visited that leads to a call to action.
Attractive design: colors and images should be in harmony with your organization's corporate identity. The design should be simple and personalized. Visual content is important to make users want to interact with your poster.
Triggers: What information do you need to give your designer?
The characteristics of QR codes
The codes provided are linked to your application within the MySmartJourney platform. Thanks to the data tracking system, you can collect statistics and distinguish visitors according to different triggers (NFC, QR code or short URL).
The QR codes on our platform are black and white to make them easier to read by mobile phones. It is also more reliable when the light intensity is low and when there are reflections. However, you can customize the color of the QR code as long as it is dark and without a gradient.
Opting for the classic version, without adding any visual motifs (integrated logo, foliage, flowers, etc.), is more practical, as the advanced versions may not be recognized by some devices.
Proper positioning of QR codes
Whether for large installations or for posters, the QR code must be large enough to be decoded by the mobile device. The minimum recommended size is 3 x 3 cm.
When signs are scattered on a trail, in a park or in the city where there is more traffic, they should be larger. For example, the minimum recommended size of the QR code is 7 x 7 cm. Remember that the size of the code depends on the distance from which the visitor will scan it.
If you are displaying QR codes for signage or way finding, make sure your codes are at least a foot by a foot size so that users can scan them from a distance and access the information. 
How do museums attract visitors?
Properly integrate NFC tags
The NFC triggers have a diameter of 30 mm and are stuck on the front side, over the poster, with the design facing up. This position is more practical and aesthetic, as the signal is transmitted through the magnetic strip at the top of the pad. This allows the content to appear more quickly. The technological aspect of the tablet is attractive to visitors.
It is also recommended that NFC triggers be placed to the right of the posters, as low as possible. This is the most ergonomic location, since most users are right-handed. The size of the QR code is proportional to the size of the poster, while the size of the NFC chip is fixed. To draw attention to your tags in a large poster, it is important to add graphic elements that surround it, such as arrows.
Short URLs
Short URLs are mainly intended for users whose mobile phones cannot decode QR codes or NFC tags, such as some BlackBerry phones. The visitor can quickly note the short URL to access your content. Hence, the importance of including short URLs on your posters. With the MySmartJourney platform, there is a default link associated with the project's web page. It is also possible to get a custom link
This is the common form of a short URL: 
Here it is the default link: msj.world/enseigne/1
Here, it is a personalized link: enseigne.com/10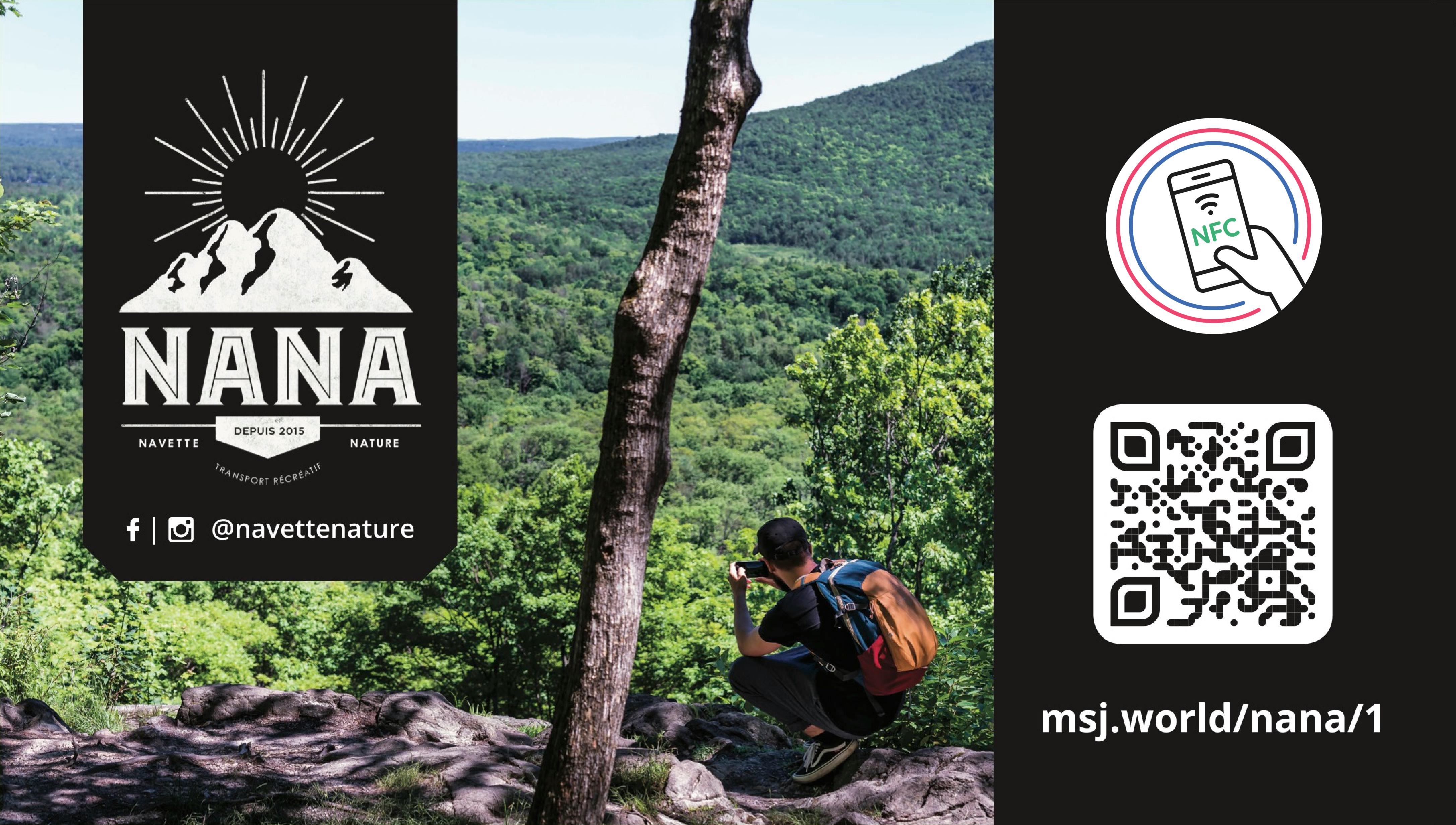 How does our digital route for tourist and cultural sites work?
Contents of a good poster: What information should you give to your project manager and designer?
Instruction phrases
Notice on your posters are essential to direct the user to your content. They must be adapted according to your audience (age category, interest, lifestyle, etc.).
Here are three versions that you can use as a basis for writing reliable instructions. You must carefully choose the sentences according to the theme and purpose of your poster. They should be reassuring and make it easy for your customers to use the technology.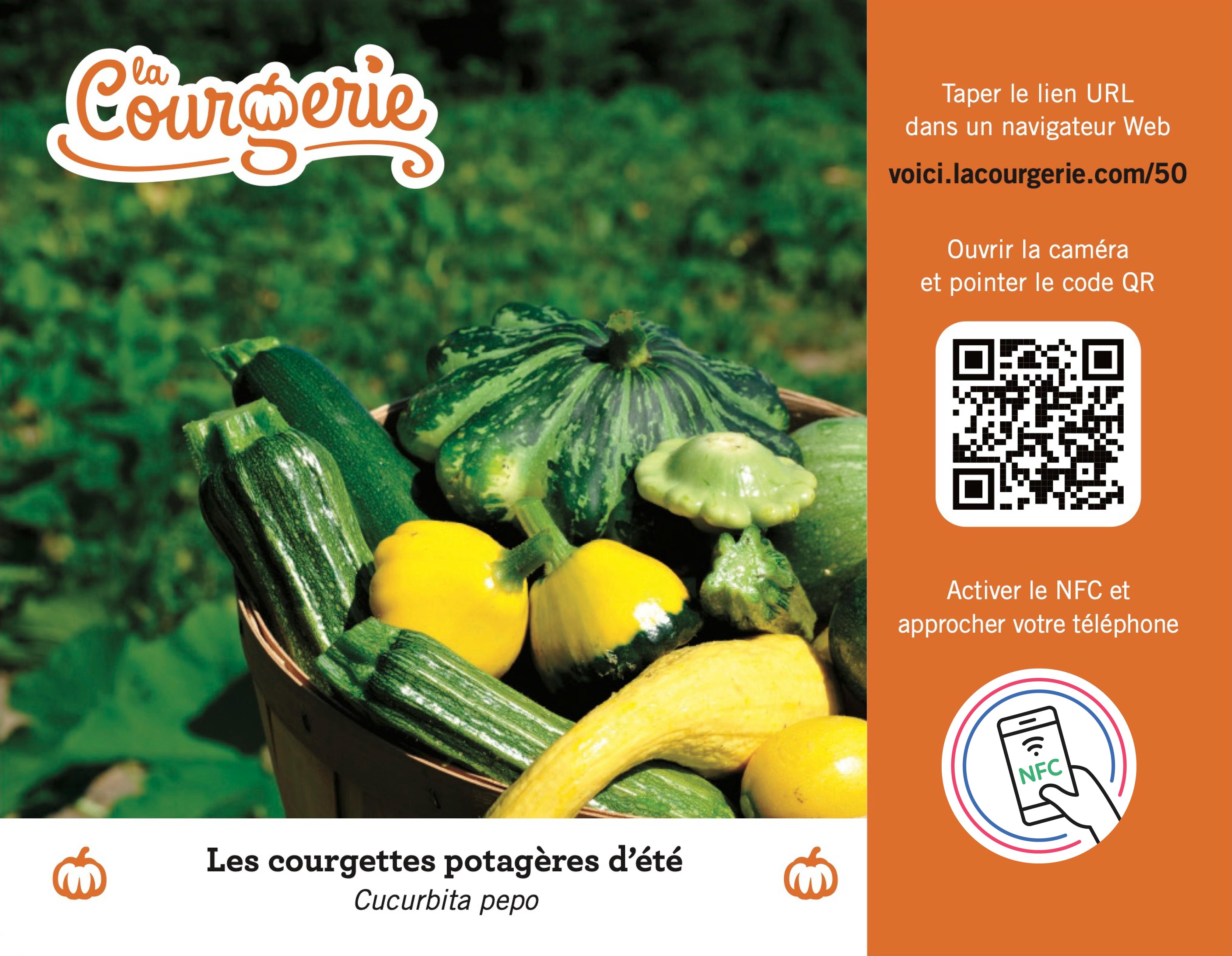 Short version
The instructions can be simple and very short.
NFC: Activate NFC and bring the top of the phone close to the phone;
QR code: Point the phone camera at the QR code.
Intermediate version
Instructions can be simple and short.
NFC: Open the NFC, approach the top of the phone and open the link that appears.
QR code: Point the phone camera at the QR code and open the link that appears.
Long version
Some clients prefer to use a more detailed version to explain to their visitors how to use the technology, especially when no one is available to accompany them.
QR code:
Open your camera.
Look at the QR code.
Open the link at the top or bottom of the screen.
NFC:
Activate the NFC (contactless payment) function in your settings.
Move your phone towards the NFC tag without touching it and wait 2-3 seconds.
Open the link at the top or bottom of the screen.
Short URL: 
Enter the URL into the browser.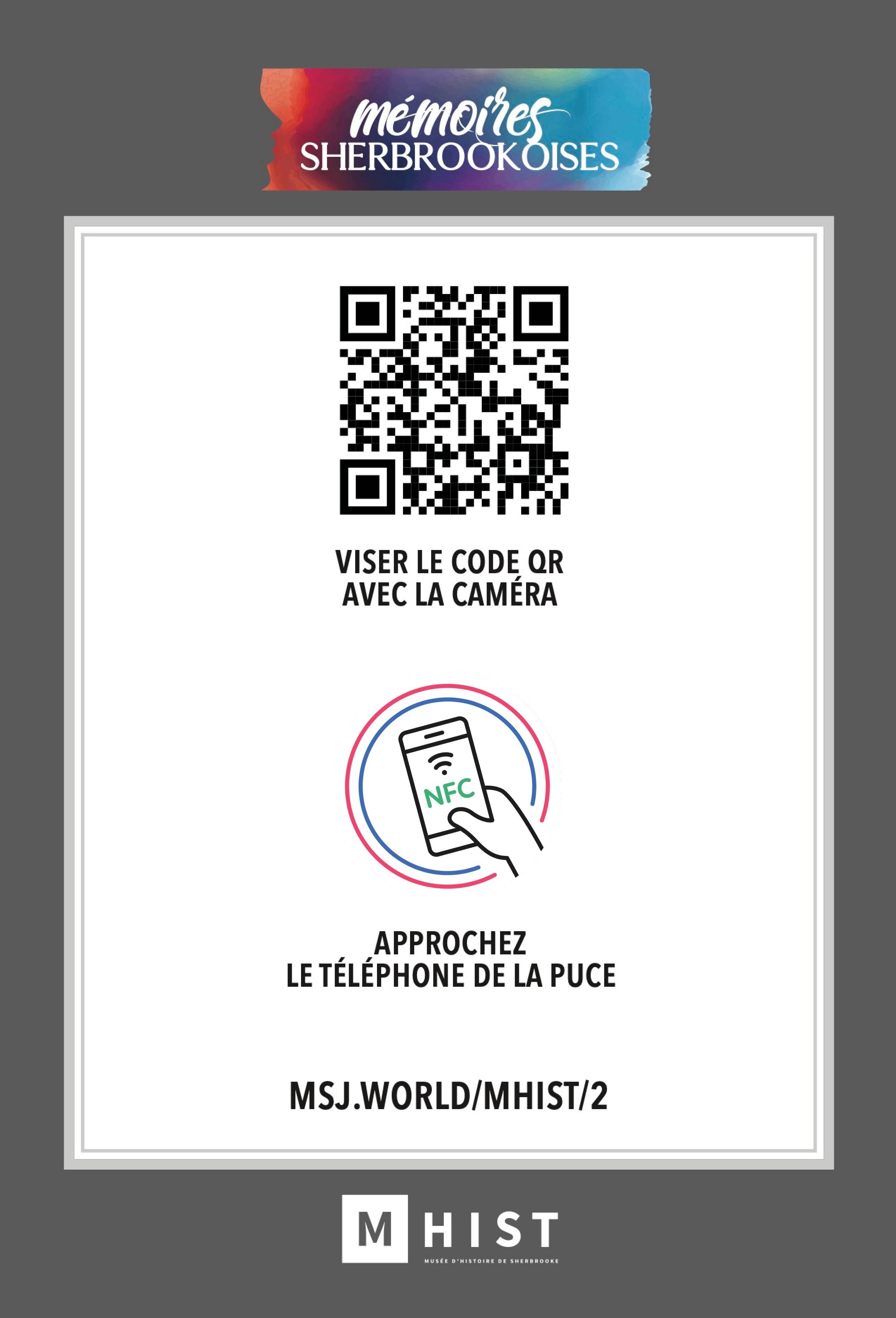 Writing the text
Textual content should be focused, concise and include a call to action. It should also be relevant to your project, your audience and your brand image to engage the reader in your content.
6 ways to make your destination stand out
Posters: What information do you need to give your printer?
You must provide your printer with certain information to ensure that the materials used are suitable for the triggers (QR code or NFC tag). It is not advisable to use metallic materials for posters if you place NFC triggers. This is because the NFC tag works by magnetic fields. Although it has a built-in anti-metal, metals can interfere with its operation and readability by mobile devices.
If you feel that an aluminum sign is essential or there is a metal structure near the sign, keep in mind that NFC detection will be slower. To reduce the effect of the metal structure, you can add material under the poster to cut the magnetic field or add rubber under the triggers to isolate them.
The choice of material covering the poster should be as matte as possible to minimize the effect of reflections that can interfere with the reading of QR codes. The less matte it is, the bigger the QR code should be. You can customize the colors of the NFC chip to match your organization's corporate identity by covering it with a self-adhesive vinyl film, for example. Make sure that the NFC chip remains clearly identifiable by the visitor.
Printing your posters: What information do you need to give to your project manager?
Here are some important guidelines for printing your posters.
You prepare the design with your graphic designer;
We provide you with QR codes and a recommendation document;
You choose your printer and have your posters printed;
We send you the NFC tags and the sticker by mail;  
You stick the tags on your posters yourself, making sure to assign the NFC tags to the corresponding posters;
You set up your posters.
It is recommended to use Scotch brand adhesive, extra strong double-sided, cross-shaped to stick your NFC pads.
Physical specifications and options
Poster printers advocate the use of certain materials, formats and other key characteristics of physical media.
Materials
The most popular choice: PVC foam (e.g. Cintra) in ⅛, 1/4 or 3/16 inch thickness.  This is the same material used for bus advertisement signs. It is lightweight, sturdy and not too expensive and can be put up indoors and outdoors;
Laminated paper/cardboard;
Aluminium/alupanel;
Support strips
To have completely ready-to-use posters, you can add a 3M strip service. They are available for indoor and outdoor use.
Formats
The most purchased are:
3 x 7 in;
9 x 12 in;
11 x 17 in.
Setting up your posters: What information do you need to give to your project manager?
Be ergonomic
If you are using NFC triggers, remember to place the posters at arm's length from visitors. Consider all possible conditions and put yourself in your visitor's shoes. The recommended optimal height for placing the reading elements is between 3.5 feet and 5.5 feet. This height is suitable for visitors with reduced mobility and for children.
Last check
In order to present a good poster for your visitors, you should check these points before installation:
The height of the posters (not too high, not too low);
The operation of the links and the updating of the content;
The readability of the text;    
How media works (photos, videos and audio files).
Need to offer your visitors a digital experience?
Delivering informative, varied and up-to-date content to your customers is an important pillar in stimulating their engagement. MySmartJourney puts its technology to work for the development of your organization. 
Thanks to the ease of use of triggers, you can attract your visitors and direct them to your content in a fun and enjoyable way. A digital signage system also allows you to collect real-time statistics about your visitors' behaviour towards the products or services you offer.
Read the article