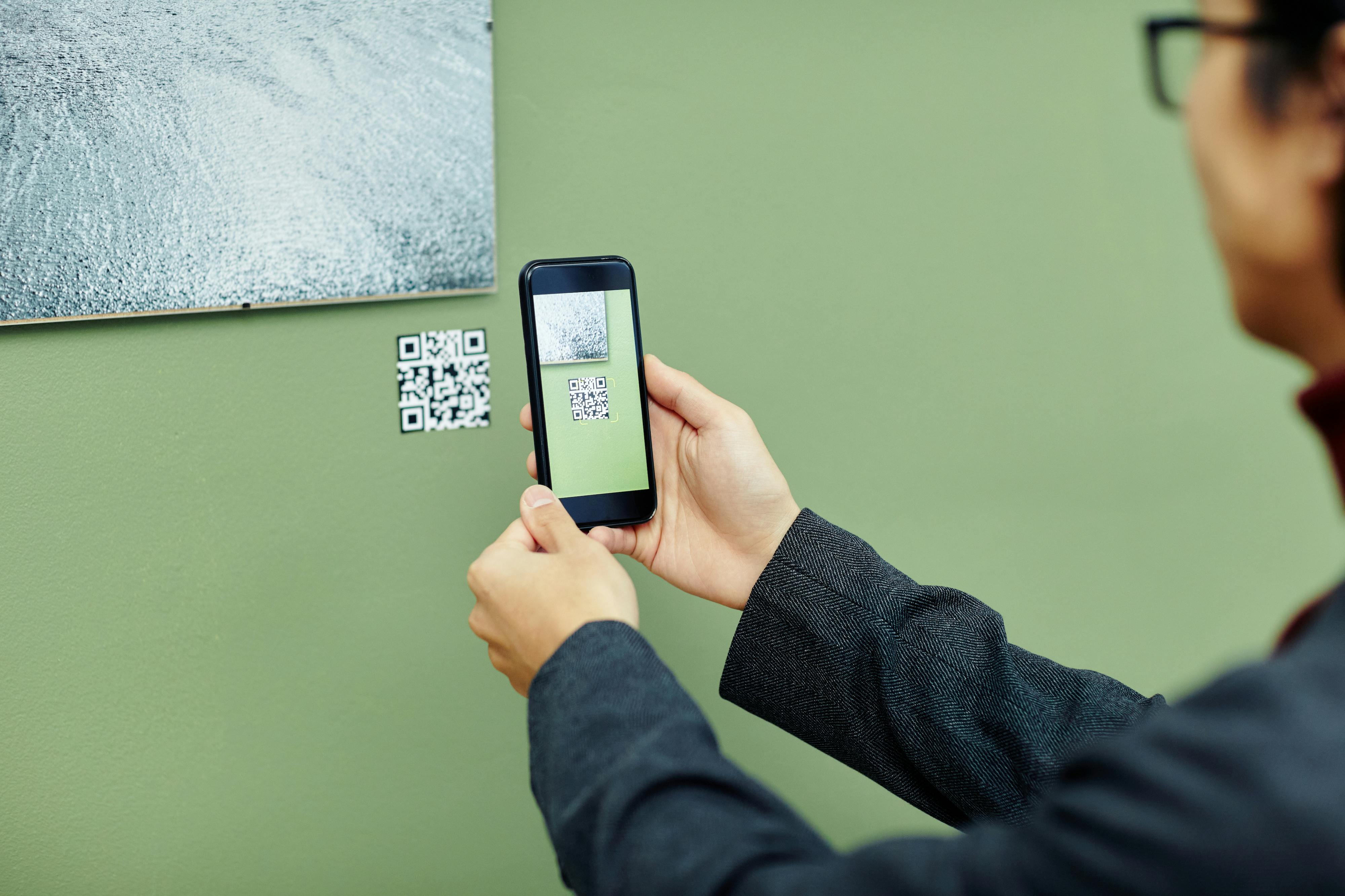 Blog
 / 
How museums benefit from QR and NFC technologies
How museums benefit from QR and NFC technologies
Technology has established itself as one of the most crucial parts of modern life over the last two decades. It's pretty hard to picture a life without digital gadgets, the Internet, or computing tools. From business and leisure to communication and information, our reliance on technology is all-consuming in almost every aspect of daily life, changing the way we see and interact with the world. Even museums are starting to leverage technology to enhance the museum experience in 2022. 
Why is technology important in museums?
Museums and exhibitions are more memorable when visitors have physical experiences, and the ideal use of technology is to make visitors aware of the exhibit rather than the technology. This is true for both adult and family-oriented museums. 
Some of the most important goals of museums are to educate, evoke emotion, and immerse visitors in culture and more. Museums are able to connect with people on a deeper level by incorporating technology and interactive solutions into displays, engaging them not just mentally but also physically, making their visit and experience more unforgettable. Given the pandemic, museums are looking for innovative methods to make their exhibits more engaging and safe and modern technology makes this possible.
Benefits of QR and NFC technology in museums 
It enhances the museum experience 
Virtual storytelling technology was once expensive and difficult to install but that is no longer the case today. Technology is becoming more accessible, and it is also getting more user-friendly. Museums can leverage tools like QR technology and near-field technology (NFC) to bring collections to life through immersive experiences. These technologies can be used to create museum tours or make exhibits more interactive. It can also help cultural mediators put an object in its proper context.
A curator can highlight content in order to make an exhibit completely accessible online or give museum visitors more opportunities to interact with the exhibit's information in an online format. This can be accomplished via content publishing techniques such as QR codes, which allow museums to include web-based interactivity into their exhibitions. Mysmartjourney's platform can also be used to replace audio guides and create self-guided tours. 
8 trends that are transforming museums 
It allows you to share valuable objects of cultural heritage
Most museums only show a portion of their collection. For example, only roughly 8% of the artwork in the Louvre is open for public viewing. Major museums across the world typically keep masterpieces hidden from the public eye in order to keep them safe and well conserved. These works can be made available online for anyone to see using virtual showcasing technologies.
High-risk materials, artifacts, and photographs are presented to the public in a variety of ways using digital content. There's the possibility to make 3D models of objects that can be accessed online through QR or NFC technologies. Museums can use technology to disseminate collections that are in storage, together with contextual metadata. Museum visitors can interact with these previously unknown collections online through photographs and text. Museums may broaden their reach and make precious artifacts more accessible to the public by giving virtual offerings.
It provides access to the visitor guide
No one likes to wait for a tour guide to visit a museum. With the help of QR Codes, visitors can say goodbye to long lines at museums. Museums can implement QR Codes to create a visitor guide or add QR codes for each artifact so that visitors can go on a self-guided tour at their own pace and get all the information they need related to the history of the exhibitions, and other important details. 
Incorporating VR and AR technologies into the video guide can improve the visitor experience. In addition, QR Codes can be used by museums to bridge the gap between online and offline experiences, thereby enhancing visitor engagement. QR codes for tour guides assist museums in achieving higher attendance rates by reducing lines and offering an equally enriching experience.
The no-contact museum of the future
It promotes greater accessibility 
One of the most significant advantages of virtual museums is that visitors are not restricted by the museum's location. Digital tours, events, and exhibitions accessed through QR and NFC technologies throughout the world allow visitors to immerse themselves in museum collections regardless of location or geographical constraints. This opens opportunities for marginalized communities or people who are simply interested in visiting museums in other nations. 
Schools will soon be able to utilize technology to take students on virtual school visits to museums all over the world, as technology becomes more affordable and accessible. This accessibility also promotes inclusion. Elderly folks, individuals with restricted mobility, and people with disabilities can all benefit from using technology to enjoy exhibitions from home.
Virtual museums also provide an alternative to visiting museums during periods when they are closed, such as during the coronavirus lockdowns. Museums can employ virtual storytelling to share their exhibitions by using content publishing platforms that can be shared across a variety of devices. 
It attracts more visitors
Museums are frequently a source of new content. Using social media platforms for museums allows visitors to have digital access for online consumption, which improves visitor interaction. Museums can share images of their exhibition spaces, along with information about them. It gives visitors important information about the exhibit, entices new visitors, and re-engages those who have previously been. 
Some of MySmartJourney's clients use the platform to attract attention on social media. For example with a quiz on "what type of exhibition corresponds to your mood of the moment?" or even to tell fun facts with gamification. It redirects to the museum's online ticket office.
They can also create links that direct users to products in the museum shop, share links to social media to request a review, or even add a link to the ticket office to buy a ticket for the next temporary exhibition.
How do museums attract more visitors? 
It allows you to collect visitor feedback
Every industry, including museums and art galleries, relies on visitor feedback. It's nearly impossible to find out how exhibitions are received, highlight problems in visitor journey mapping, and re-engage with visitors without collecting feedback. 
Feedback must be precise, represent the exact journey map, and be seamless. Museums can place feedback QR codes in common gathering spots so that visitors can scan the code, bookmark the link, and later fill it out while strolling through the museum. Encourage visitors to submit comments by providing freebies, a free ticket to a future event, or even access to upcoming events.
8 ways to bring fun to your museum
It allows you to share events
Museums and art galleries hold events on a regular basis to highlight new collections or prominent artists. Event invitations are sometimes hidden among other emails and texts, making it difficult to find details about the event. To avoid this, use location QR codes and event QR codes to include crucial event facts such as the headliner artist, the date and time of the event and the link to purchase tickets. 
Visitors can save the event to their calendar and RSVP without having to go to another website by scanning the QR Code. Include social media accounts on the same landing page so that people may follow the event on social media. Incorporate event QR Codes into the museum's common rooms, print advertisements, and walkways so that interested visitors can scan them to learn more about the next event.
Want to digitize your museum? 
Mysmartjourney provides interactive experiences for museums and exhibits. Our platform allows you to merge the physical and online world to educate, amuse, and surprise visitors.  
Whether it's a children's museum, an art museum, or a science museum, our tools allow you to personalize unique journeys for your visitors. Our interactive and digital solutions can be tailored in both content and scale to maximize customer engagement and satisfaction.
Discover our other articles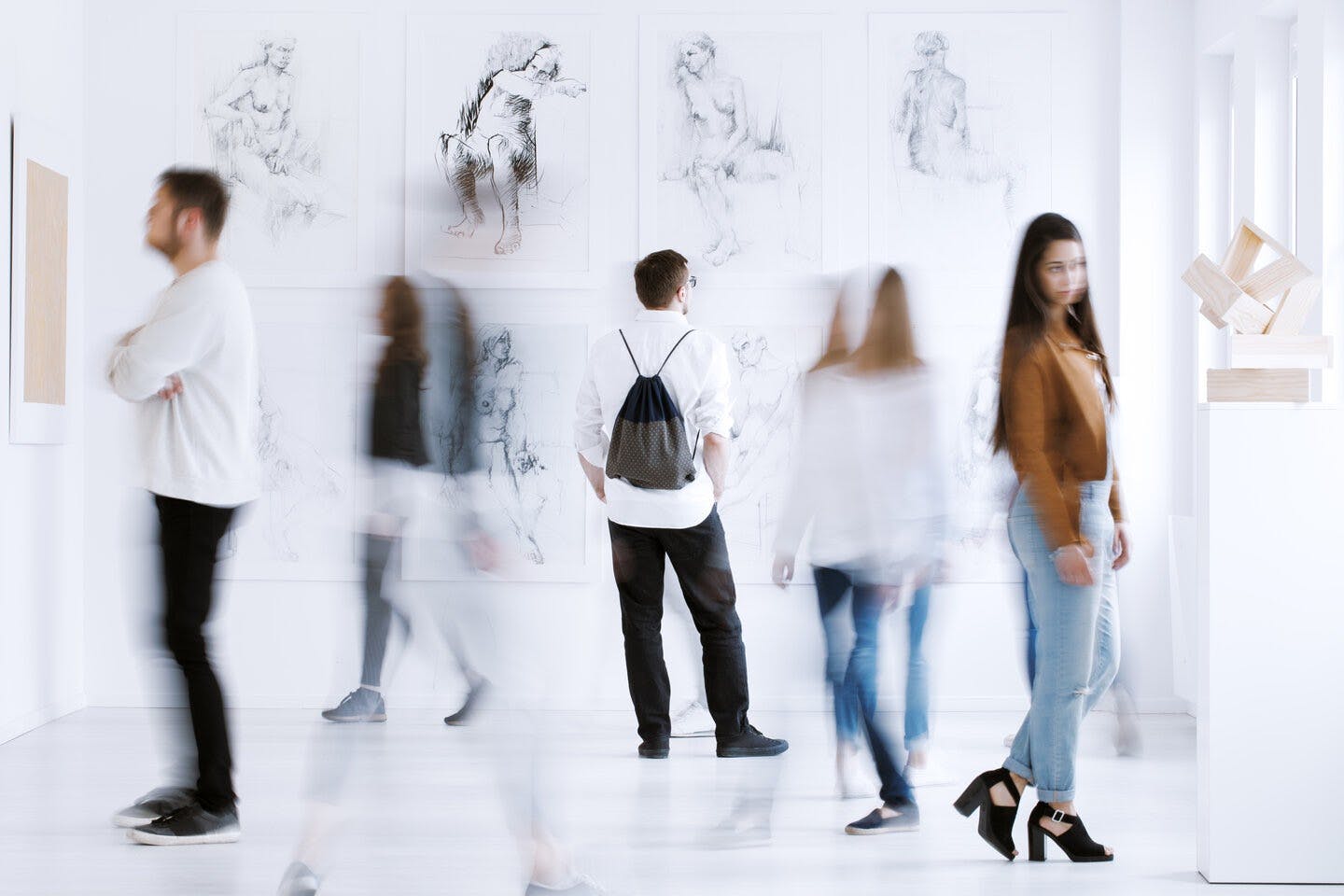 What exactly is cultural mediation ?
What does cultural mediation mean?
Cultural mediation in the process of connecting individuals with other cultures in a seamless and informative manner. 
We, as humans, have a wide range of connections to various cultures and societies, which are not always easy to identify and decipher within the wider context of our lives and the world. 
The social environments that we have the opportunity to be exposed to propose intriguing and exciting possibilities, but these possibilities are not always easy to grasp and understand. That is where cultural mediation comes in. Cultural mediation is the process of helping individuals fully comprehend alternative cultures through involvement and participation. 
Cultural mediation is integral in supporting people on their journey to understand other cultural norms and encourage cross cultural coherence. Different social environments create different boundaries and modes of knowledge. Cultural mediation works to bring together these concepts of cultural difference to enhance understanding and acceptance across boundaries.
What does a cultural mediator do?
Unsurprisingly, cultural mediators bring together ideas of culture and mediation in order to facilitate cultural development and cohesion. Ultimately, cultural mediators work as a source of knowledge as they convey information between two or more cultural sources with great ease and accuracy. 
In addition to creating coherence between parties, individuals and cultures, they also facilitate dispute resolution in order to promote clarity and unity. They have a deep well of knowledge and are easily able to recall information in order to explain concepts of cultural norms and differences. Moreover, they are often proficient in different languages so they can ease comprehension between different parties, individuals and cultures. 
Although cultural mediators can be real life individuals, in this 21st century setting, cultural mediation has also transferred into the digital world. Businesses and web interfaces have been developed in order to allow cultural mediation to bridge the gap between the physical and digital world. 
Cultural mediation has evolved into the digital sphere
How does Vygotsky's theory explain cultural differences?
An individual who has been influential in the world of cultural understanding and difference is Vygotsky. He devised the Vygoatskian principle to explain the concepts behind cultural mediation. 
The Vygotskyian principle emphasises the importance of tools and signs in developing our cognitive functions. According to his theory, the tools and signs that we encounter throughout society become internalized and inform the development of our everyday abilities, such as learning, problem solving and memory. This therefore means that society and culture are the mediators for our abilities. 
Vygotsky focuses on the development of children's cognition in order to best demonstrate his theory. If you think about the process of how children learn, his theory becomes easier to grasp. It can be broken down as follows:
Children begin with very little knowledge about the world around them.
As they grow, they begin to form opinions, beliefs, critical thinking and problem solving skills.
They acquire these skills by observing the world around them and asking questions.
These observations and answers are internalized and eventually form a child's understanding of the world around him, and enhances a plethora of their abilities. 
Vygotsky's theory highlights the importance of mediators in developing understanding in children, which can also be translated into the importance of understanding across cultures within adults. Although adults are fully competent in understanding their own cultural beliefs and systems, they are not so competent in others. 
Therefore, a similar process is at work in cultural mediation amongst adults. Adults observe other cultures and internalize behaviours and modes of thinking that align with these differing cultures. 
Art and cultural mediation
Cultural mediation's interaction with art is an important one, as it allows for an exchange of meaning and significance within artwork, which makes it more accessible to a wider group of people. Art is an extremely creative medium, and cultural mediation allows this creativity to thrive as it promotes an exchange in knowledge and exploration of works of art. 
Although a comprehensive understanding of the culture and context that surrounds a piece of work is not required to appreciate the content of the piece, it can help to enhance your experience of the art. Whether you have a particular interest in a specific piece of art, or a broader interest in the world of art, cultural mediation can help you understand as much as possible in order to get the most out of it. 
Art and cultural mediation go hand in hand.
Why is cultural mediation important for museums?
As highlighted, an in-depth knowledge of art, including a well rounded and comprehensive breakdown of the cultural background of pieces is integral in order to compose an all encompassing understanding of the art. 
That need for substantial background knowledge translates into a necessity for cultural mediation within museums in order to ensure visitors are provided with everything they need in order to enjoy their visit as much as possible.
Here are some key reasons to implement cultural mediation in your museum :
1. Helps you connect with visitors
Hiring cultural mediators will inevitably improve your connection to visitors as it creates a more personal experience for them as they make their way through the museum. 
As much as museums are brilliant sources for individuals to feel cultured as they slowly build knowledge and understanding on a plethora of different things, the inherent set up of a museum can often prove to be dreary and in some cases overwhelming. 
Since there is so much information available within a museum, it is easy to get lost in it all, which can sometimes counteract everything that you are meant to be enjoying. Integrating cultural mediators throughout the museum can help to mitigate this. If visitors find it difficult to concentrate, understand or fully appreciate what is in front of them, mediators can step in and offer to help.
2. Provides fast answers
Implementing cultural mediation technology or in person cultural mediators allows your visitors easy and instantaneous access to resources. The ability to quickly answer the questions of your visitors is integral in maintaining maximum engagement. 
3. Opportunity to create unique experiences
Cultural mediation comes in many different forms. From digitally interactive information points, to cultural mediator led workshops, there are an endless number of ways to provide information.
Understanding your target market and specifying your methods of cultural mediation will help your museum maintain maximum interest from your guests. For example, if the museum caters to children, you could create a digital game that visitors participate in throughout their journey around the museum. 
Each attraction has an accompanying digital feature that lets you learn more about the attraction and earn some points. If you have a more sophisticated target audience, maybe introduce some lectures throughout the day to provide even more background knowledge to your exhibit. 
There are a multitude of ways that you can incorporate cultural mediation into your museum. Any way that you can develop and expand an individual's understanding of your exhibition is a form of cultural mediation, so feel free to be creative and ensure it caters to your visitors.
4. Makes it more accessible 
The format of a traditional museum isn't necessarily accessible to all. However, by implementing cultural mediation practices you can ensure your museum is able to reach as many people as possible.
As mentioned, there are different forms of cultural mediation so you can provide access to your expertise and knowledge surrounding your museum and its exhibits in the digital sphere. This can then be utilized by those unable to physically visit your museum, whilst still providing them with a gateway to understanding more about the pieces they are interested in. 
Read the article