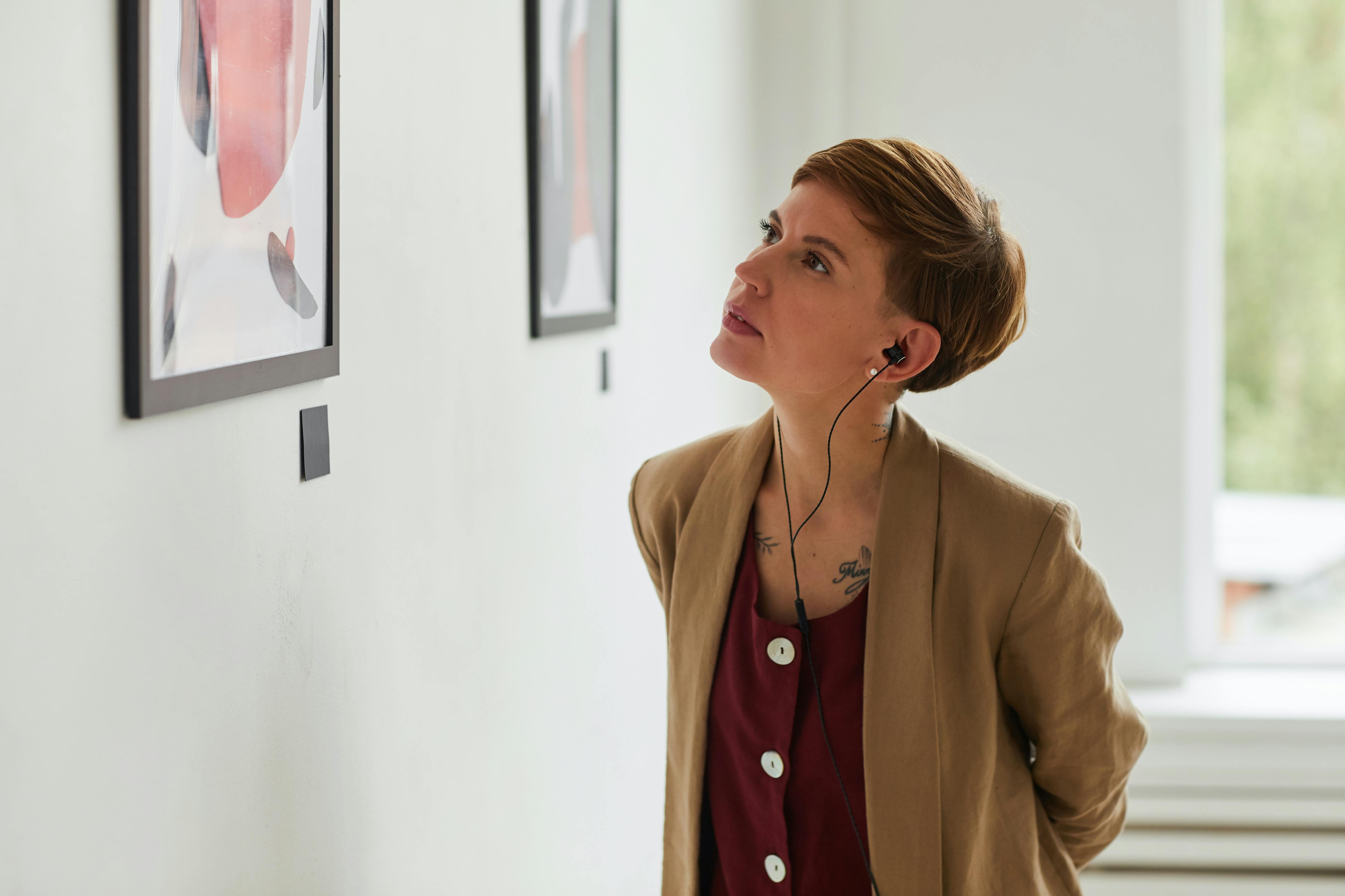 Blog
 / 
6 reasons why audio guides are changing in 2021
6 reasons why audio guides are changing in 2021
What is an audio guide? 
An audio guide device is an electronic system similar to a music player which allows personalized guided tours in museums or other establishments. 
Audio guides are integrated in the museum experience in order to help visitors understand the exhibitions without the need for a physical tour guide. Whilst some people prefer a guided tour with a museum employee, an audio guide seemingly gives you the best of both worlds as you get all the information you would get from a tour guide but can stroll around the museum at your own pace. 
Audio guides are often used in museums that frequently have foreign language visitors. Think of renowned museums, such as The Louvre or the Natural History Museum, whose visitor demographics are extremely varied. They cannot hire employees for every eventuality so they use audio guide systems, which can be formatted in different languages, in order to accommodate foreign language speakers and visitors. 
Why do audio guides have to change?  
In today's digital age, audio guides are quickly changing and adapting, as other more innovative options are emerging as better alternatives. 
Here are some of the reasons why audio guides are becoming obsolete:
1. No visual
The most obvious drawback of the audio guide is the fact that there are no visuals attached to it. Whilst some would argue that visuals aren't needed because you have the physical visuals available in the museum, these are temporary and at a distance. 
There are alternatives available, such as MySmartJourney that can provide you with visuals on your phone along with audio, which complement each other. These visuals are more accessible and can interact with the exhibit in a way that audio guides cannot, creating a more exciting and well rounded visitor experience.
2. Risk of contamination
The Covid-19 pandemic has worked to speed up the adapting process of audio guides as we have become more aware of germs and bacteria. Audio guides come in and out of the hands of countless museum visitors per day, making germ cross contamination a key problem, especially during peak visiting hours. Innovative solutions that leverage customizable apps remove this problem as visitors simply have to use their smartphones (no equipment is needed). 
3. Only stimulate one sense
An audio guide in itself is actually quite limiting as all it offers is an audio aid. Not only is this non-inclusive, and inaccessible to those hard of hearing, but it is also quite a boring experience. The audio guide provides a very one-dimensional user experience which does not make the most of the other senses. 
Having visual aids accompany the audio contents elevates the entire experience and allows visitors to enjoy all the museum has to offer in a more interesting and innovative way. Appealing to other senses also makes alternatives more accessible and user-friendly than audio guides. 
4. Doesn't take advantage of enhanced reality
Enhanced reality creates a more collaborative and interactive experience that elevates the exhibit exponentially. Platforms and interfaces such as MySmartJourney include things such as quizzes, augmented reality and live streams to the journey. 
5. Can't be modified rapidly
One of the biggest downfalls of audio guides is the fact that they cannot be quickly modified. This poses problems for numerous reasons. Firstly, museum exhibits rarely stay the same and are often changed on a regular basis. Audio guides cannot be changed at the same rate that exhibits do, meaning they are constantly behind. 
Moreover, knowledge is constantly evolving. Whilst your audio guide might say one thing about your exhibition, historians and archeologists might have since uncovered new information about it, and your audio guide cannot be easily updated. 
6. It requires physical equipment
Multiple aspects make museum audio guide equipment an undesirable option. Not only are they costly to produce, and transport, but they are also at risk of getting lost and broken. Although audio guide users are generally respectful and responsible with the equipment, accidents happen and these can be costly. 
Best alternative to audio guides 
MySmartJourney offers interfaces that allow museums and places of interest to integrate multimedia content to their exhibitions and the public spaces they occupy. It is the future of tourism. 
They provide a digital and innovative solution to self-guided tours, regardless of the setting. Whilst it can be utilized by museums, it can equally be used in any public space that will benefit from an exchange of information and interaction.
It is an extremely accessible alternative as it functions from the user's smartphone and has a plethora of interactive options, depending on what the situation calls for. This could mean including quizzes for children, or more informative academic content for adults. 
Moreover, the setup allows you to endlessly update information in real time, ensuring your information is always up to date and never becomes dated. The way in which you utilize the interface is up to you, but the opportunities are endless and far more interesting than anything audio guides can offer. 
Discover our other articles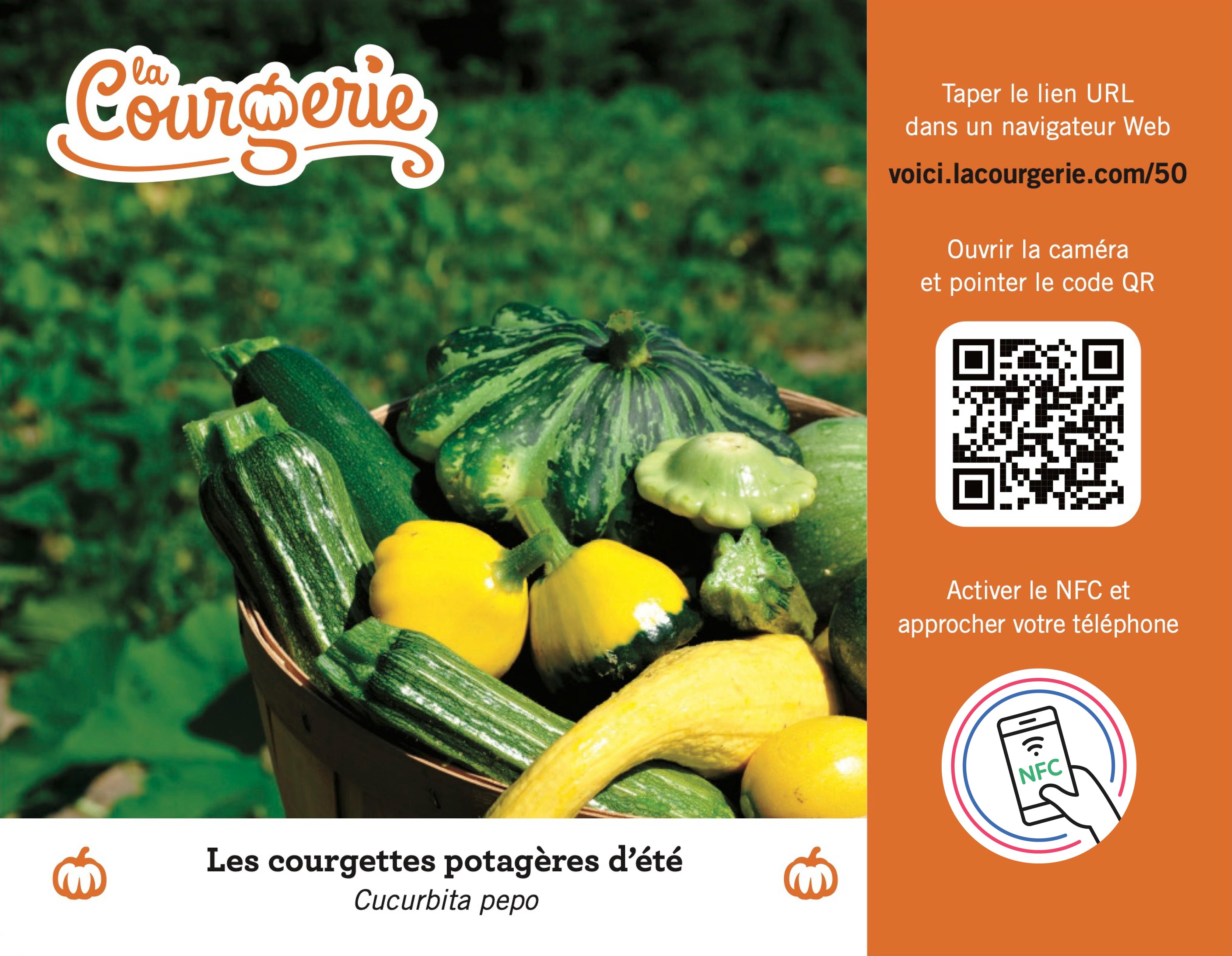 Whether it's attracting visitors to a historical site, guiding hikers along a walking trail or increasing sales at a commercial establishment, delivering rich and unique content is a key element in enhancing your organization's communication strategy.
To this end, the creation of an interactive poster based on technological innovation is advantageous, especially with the massive use of smart devices and the promotion of contactless communication due to Covid-19. 
The main components of a communicative and interactive poster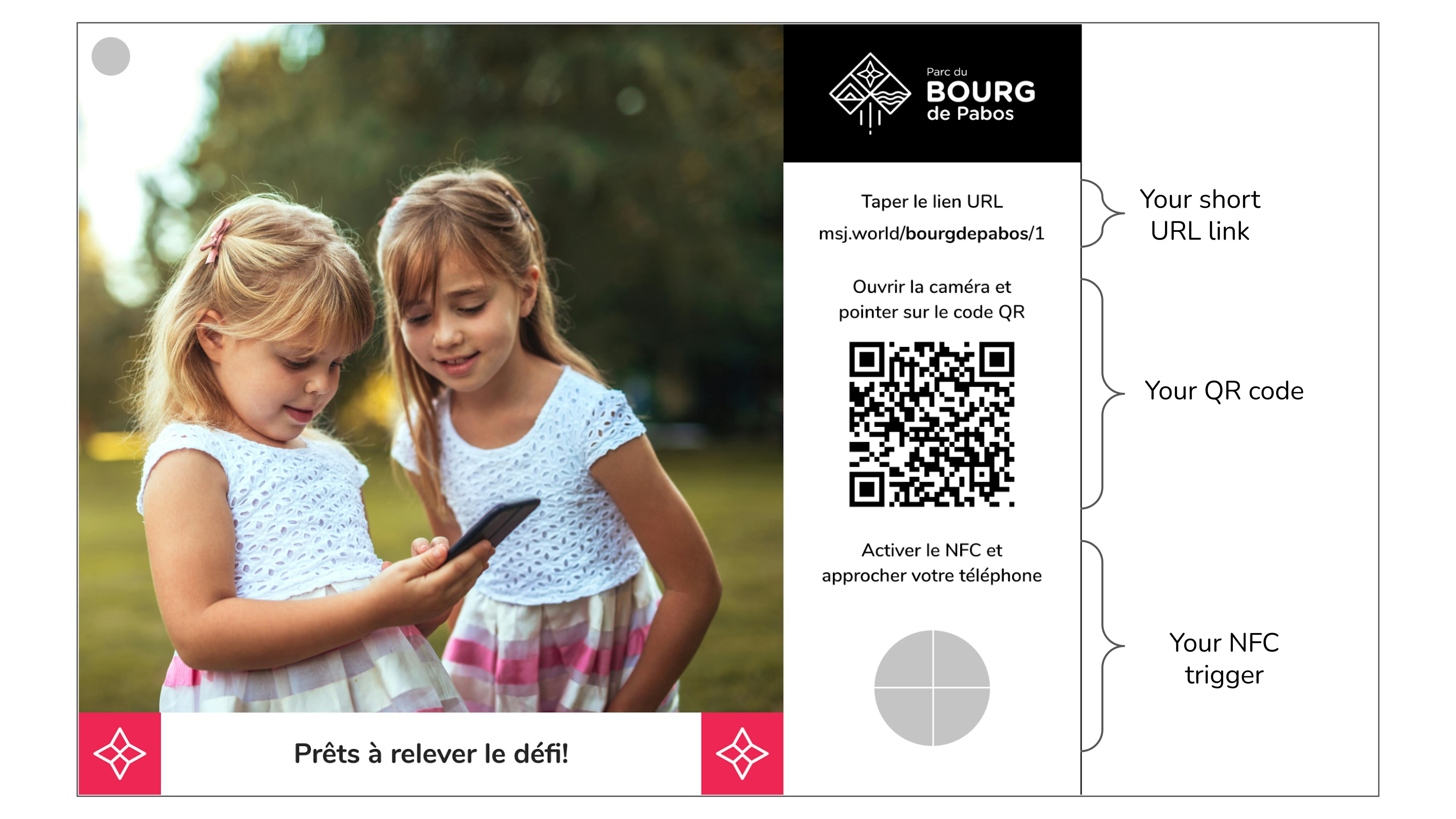 A communicative and interactive poster makes the experience tangible and serves as a physical point of interest. It contains the following elements:
Facilitate access to content:
A QR code: it is a 2-dimensional code that allows to encode data. It is often used to identify a product or navigate to a web page;
An NFC tag is an adhesive label containing a chip that allows a small amount of information to be exchanged with a wireless device. It is often used for contactless payments, but it also allows the exchange of information;
A short URL: this is a short web address that can be typed quickly on the device to access a web page. It is especially useful for devices that cannot read QR codes and NFC tags.
Draw visitors' attention to value-added information:
The logo: it is a key element to build the visual identity of your organization and distinguish yourself from your competitors.
Short textual content: a title and a short sentence should concisely describe the content to be visited that leads to a call to action.
Attractive design: colors and images should be in harmony with your organization's corporate identity. The design should be simple and personalized. Visual content is important to make users want to interact with your poster.
Triggers: What information do you need to give your designer?
The characteristics of QR codes
The codes provided are linked to your application within the MySmartJourney platform. Thanks to the data tracking system, you can collect statistics and distinguish visitors according to different triggers (NFC, QR code or short URL).
The QR codes on our platform are black and white to make them easier to read by mobile phones. It is also more reliable when the light intensity is low and when there are reflections. However, you can customize the color of the QR code as long as it is dark and without a gradient.
Opting for the classic version, without adding any visual motifs (integrated logo, foliage, flowers, etc.), is more practical, as the advanced versions may not be recognized by some devices.
Proper positioning of QR codes
Whether for large installations or for posters, the QR code must be large enough to be decoded by the mobile device. The minimum recommended size is 3 x 3 cm.
When signs are scattered on a trail, in a park or in the city where there is more traffic, they should be larger. For example, the minimum recommended size of the QR code is 7 x 7 cm. Remember that the size of the code depends on the distance from which the visitor will scan it.
If you are displaying QR codes for signage or way finding, make sure your codes are at least a foot by a foot size so that users can scan them from a distance and access the information. 
How do museums attract visitors?
Properly integrate NFC tags
The NFC triggers have a diameter of 30 mm and are stuck on the front side, over the poster, with the design facing up. This position is more practical and aesthetic, as the signal is transmitted through the magnetic strip at the top of the pad. This allows the content to appear more quickly. The technological aspect of the tablet is attractive to visitors.
It is also recommended that NFC triggers be placed to the right of the posters, as low as possible. This is the most ergonomic location, since most users are right-handed. The size of the QR code is proportional to the size of the poster, while the size of the NFC chip is fixed. To draw attention to your tags in a large poster, it is important to add graphic elements that surround it, such as arrows.
Short URLs
Short URLs are mainly intended for users whose mobile phones cannot decode QR codes or NFC tags, such as some BlackBerry phones. The visitor can quickly note the short URL to access your content. Hence, the importance of including short URLs on your posters. With the MySmartJourney platform, there is a default link associated with the project's web page. It is also possible to get a custom link
This is the common form of a short URL: 
Here it is the default link: msj.world/enseigne/1
Here, it is a personalized link: enseigne.com/10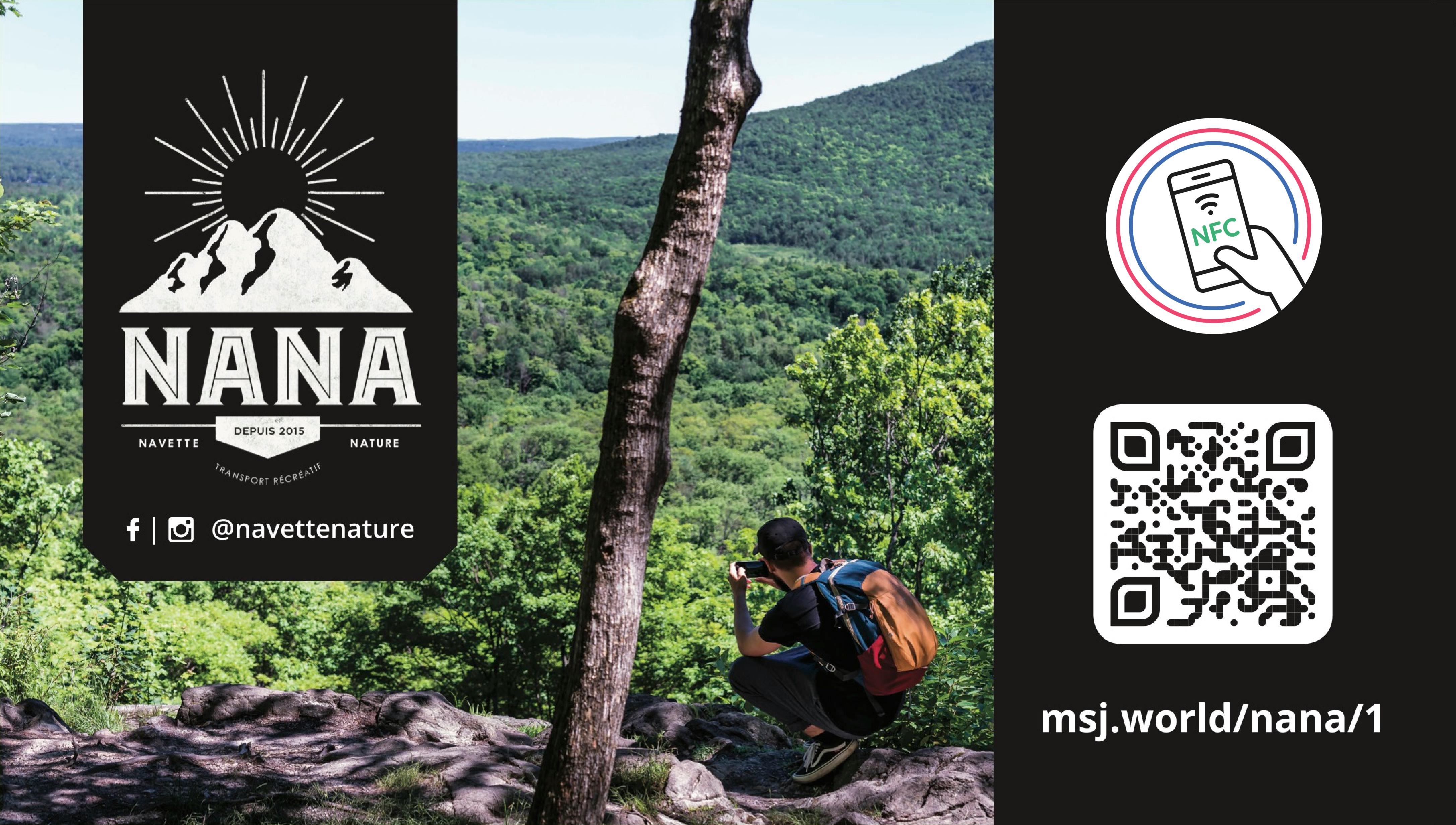 How does our digital route for tourist and cultural sites work?
Contents of a good poster: What information should you give to your project manager and designer?
Instruction phrases
Notice on your posters are essential to direct the user to your content. They must be adapted according to your audience (age category, interest, lifestyle, etc.).
Here are three versions that you can use as a basis for writing reliable instructions. You must carefully choose the sentences according to the theme and purpose of your poster. They should be reassuring and make it easy for your customers to use the technology.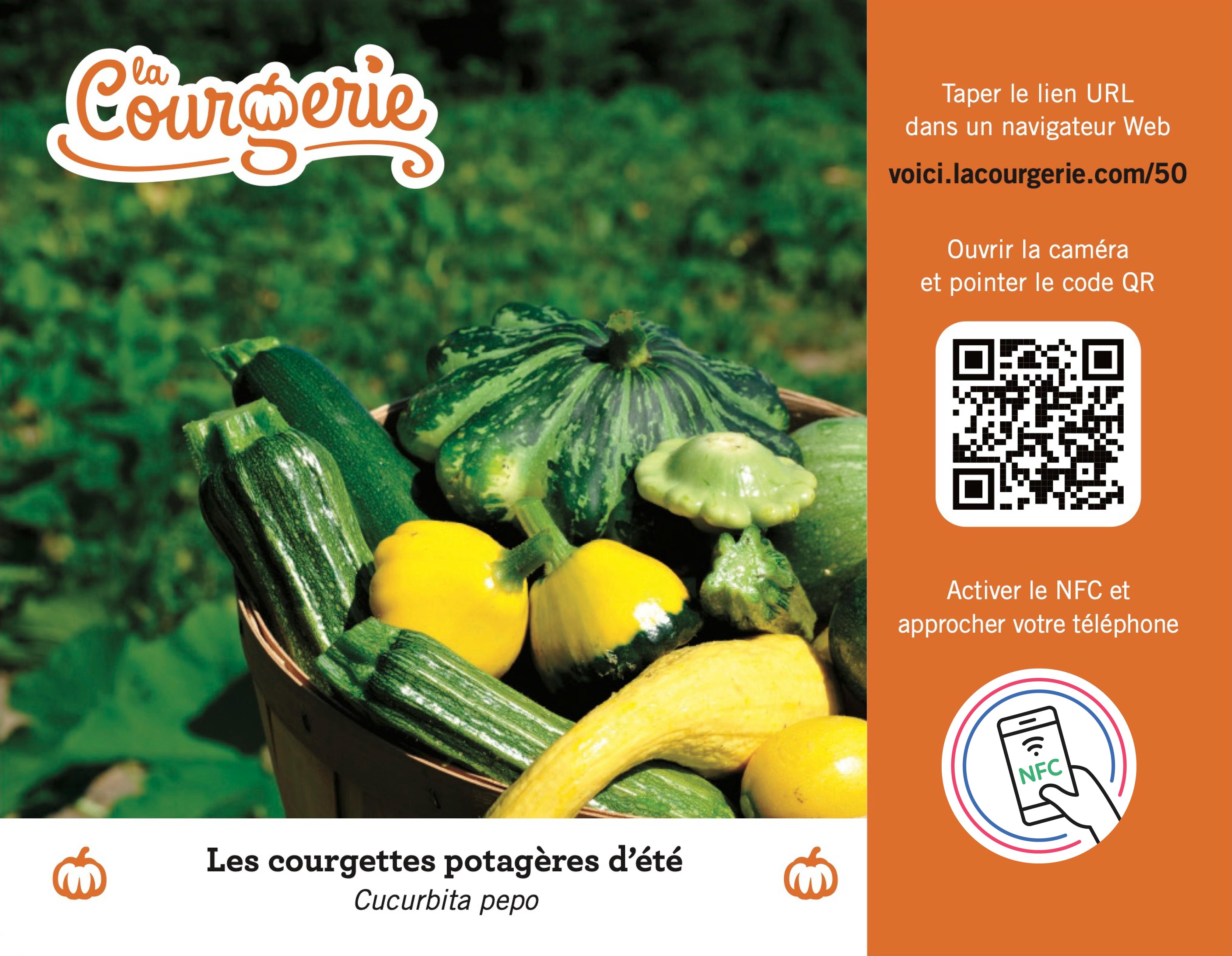 Short version
The instructions can be simple and very short.
NFC: Activate NFC and bring the top of the phone close to the phone;
QR code: Point the phone camera at the QR code.
Intermediate version
Instructions can be simple and short.
NFC: Open the NFC, approach the top of the phone and open the link that appears.
QR code: Point the phone camera at the QR code and open the link that appears.
Long version
Some clients prefer to use a more detailed version to explain to their visitors how to use the technology, especially when no one is available to accompany them.
QR code:
Open your camera.
Look at the QR code.
Open the link at the top or bottom of the screen.
NFC:
Activate the NFC (contactless payment) function in your settings.
Move your phone towards the NFC tag without touching it and wait 2-3 seconds.
Open the link at the top or bottom of the screen.
Short URL: 
Enter the URL into the browser.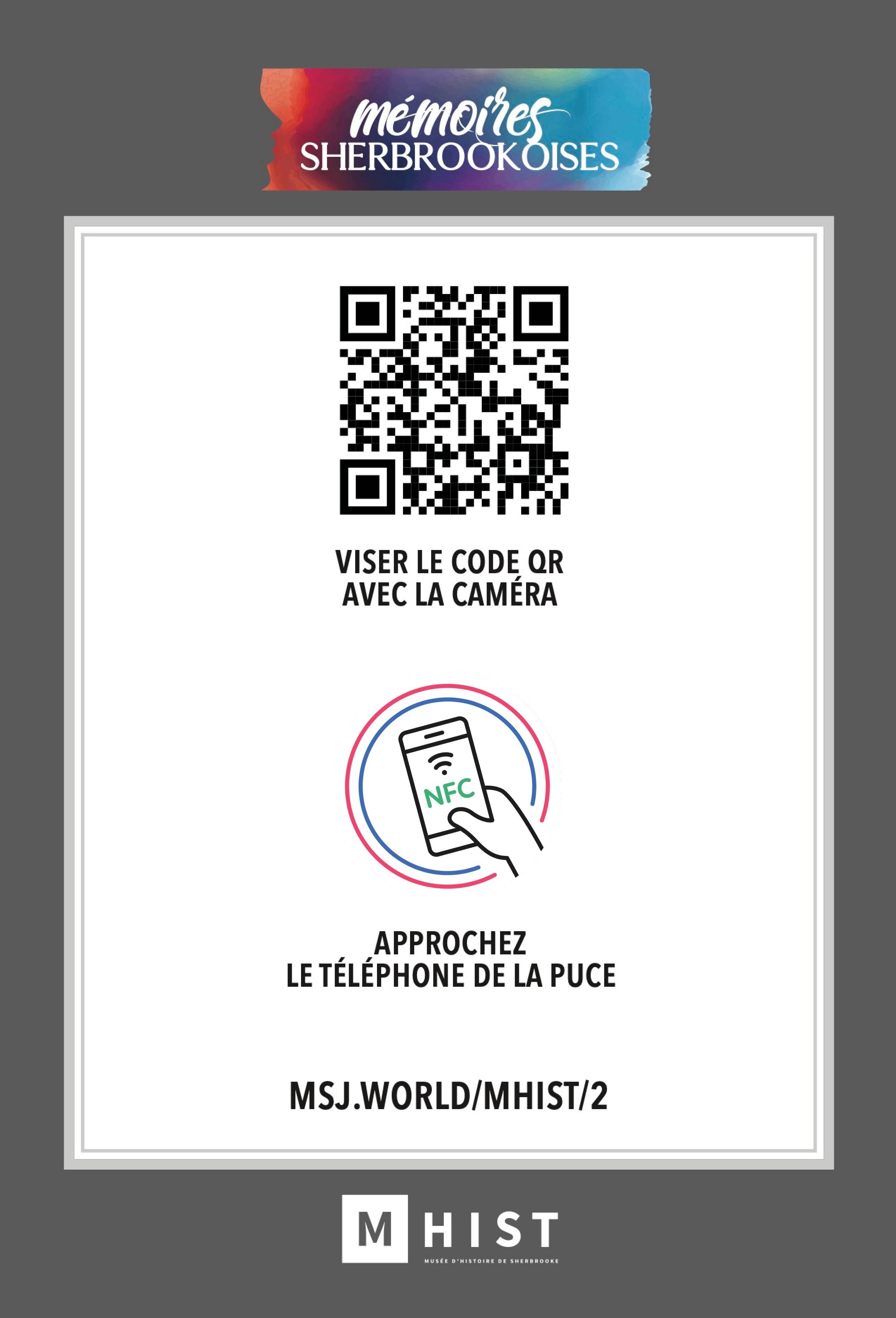 Writing the text
Textual content should be focused, concise and include a call to action. It should also be relevant to your project, your audience and your brand image to engage the reader in your content.
6 ways to make your destination stand out
Posters: What information do you need to give your printer?
You must provide your printer with certain information to ensure that the materials used are suitable for the triggers (QR code or NFC tag). It is not advisable to use metallic materials for posters if you place NFC triggers. This is because the NFC tag works by magnetic fields. Although it has a built-in anti-metal, metals can interfere with its operation and readability by mobile devices.
If you feel that an aluminum sign is essential or there is a metal structure near the sign, keep in mind that NFC detection will be slower. To reduce the effect of the metal structure, you can add material under the poster to cut the magnetic field or add rubber under the triggers to isolate them.
The choice of material covering the poster should be as matte as possible to minimize the effect of reflections that can interfere with the reading of QR codes. The less matte it is, the bigger the QR code should be. You can customize the colors of the NFC chip to match your organization's corporate identity by covering it with a self-adhesive vinyl film, for example. Make sure that the NFC chip remains clearly identifiable by the visitor.
Printing your posters: What information do you need to give to your project manager?
Here are some important guidelines for printing your posters.
You prepare the design with your graphic designer;
We provide you with QR codes and a recommendation document;
You choose your printer and have your posters printed;
We send you the NFC tags and the sticker by mail;  
You stick the tags on your posters yourself, making sure to assign the NFC tags to the corresponding posters;
You set up your posters.
It is recommended to use Scotch brand adhesive, extra strong double-sided, cross-shaped to stick your NFC pads.
Physical specifications and options
Poster printers advocate the use of certain materials, formats and other key characteristics of physical media.
Materials
The most popular choice: PVC foam (e.g. Cintra) in ⅛, 1/4 or 3/16 inch thickness.  This is the same material used for bus advertisement signs. It is lightweight, sturdy and not too expensive and can be put up indoors and outdoors;
Laminated paper/cardboard;
Aluminium/alupanel;
Support strips
To have completely ready-to-use posters, you can add a 3M strip service. They are available for indoor and outdoor use.
Formats
The most purchased are:
3 x 7 in;
9 x 12 in;
11 x 17 in.
Setting up your posters: What information do you need to give to your project manager?
Be ergonomic
If you are using NFC triggers, remember to place the posters at arm's length from visitors. Consider all possible conditions and put yourself in your visitor's shoes. The recommended optimal height for placing the reading elements is between 3.5 feet and 5.5 feet. This height is suitable for visitors with reduced mobility and for children.
Last check
In order to present a good poster for your visitors, you should check these points before installation:
The height of the posters (not too high, not too low);
The operation of the links and the updating of the content;
The readability of the text;    
How media works (photos, videos and audio files).
Need to offer your visitors a digital experience?
Delivering informative, varied and up-to-date content to your customers is an important pillar in stimulating their engagement. MySmartJourney puts its technology to work for the development of your organization. 
Thanks to the ease of use of triggers, you can attract your visitors and direct them to your content in a fun and enjoyable way. A digital signage system also allows you to collect real-time statistics about your visitors' behaviour towards the products or services you offer.
Read the article