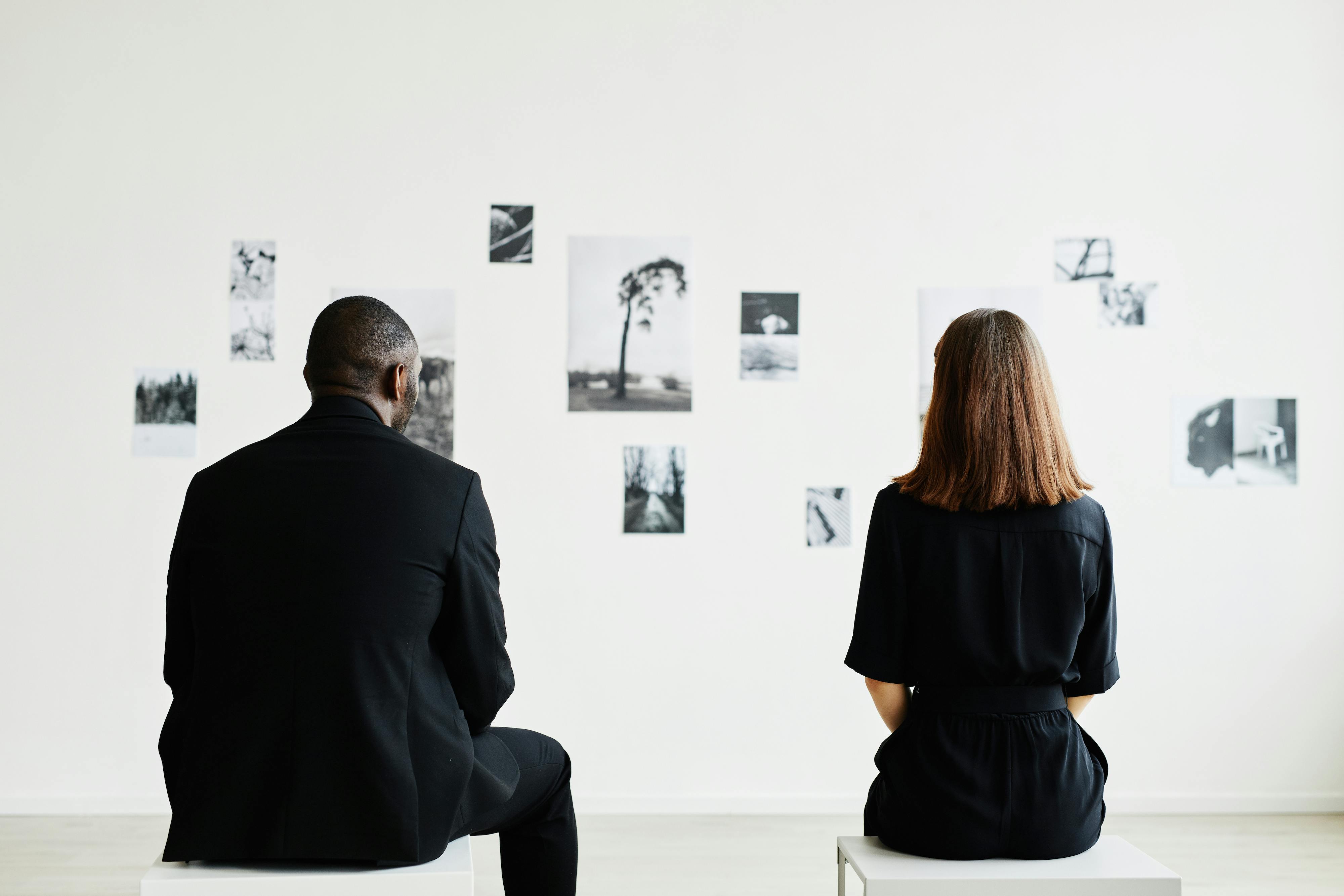 Blog
 / 
How do museums attract visitors?
How do museums attract visitors?
Attracting millennials to museums is not as difficult as you may think. However, it requires more than setting up cool spots to take Instagram photos and a booth with craft beers. Due to the Covid-19 pandemic, many museums have had to reinvent themselves to attract their target audience to their facilities, offering interesting and creative activities for all ages. In this article, we tell you the best and most original ways that museums use to attract visitors.
Why Are Museums Important?
Museums are important because they preserve history, culture, and legacy. They are an essential part of society because they provide knowledge and allow us to study our culture's rich history. Successful museums are those that can preserve our history by holding on to artifacts, relics, artwork, etc.

A museum's purpose is to collect, preserve, research, exhibit, educate, inspire and entertain. It is a place for people to learn about the world around them. The world is made up of many different cultures and civilizations. Some museums are built around one culture or society, while others house many exhibits on different cultures and periods. 
Conservation of artifacts
Conservation is the primary mission of museums. Museums preserve historic artifacts as well as objects of art history and science to delay the natural laws of deterioration and make sure future generations can understand the past through exhibitions. 
Interpretation of the past and mediation
Museums are important because they have a lot of cultural values in them (archeological, anthropological, etc. In addition, they also have historical importance that can be traced back from the past to the present. Going on a museum field trip is also an excellent way for children to learn about history. The purpose of museums is to promote education and research as well as exchange ideas about history, science, or art.
Allow the public to discover
Museums also allow you to see art that you may never get to see in person. Most museums open their collections to the public in some form or another. This may be through touring an exhibit in the museum or visiting galleries where works of art are stored. Some museums also allow for self-guided tours, allowing visitors to explore at their own pace and learn more about specific art or artifacts in detail.
8 ways to bring fun to your museum
How do museums increase visitor attendance? 
As you might expect, museums need to find new ways and new techniques to keep visitors captivated and to stay relevant. Many museums used to attract art fans organically but with the pandemic, they had to adapt and focus on innovation to make the audience feel part of the exhibition. 
So, what can you do to convince people to come to museums? People visit museums for many reasons; it's not just about the art. Museums do more than display classic works of art, they also tell stories about the world we live in.  Art museums have always focused on preserving knowledge for future generations through items valued by society. That being said, museums have had to adapt their marketing strategies to become relevant in an era of disposable goods. 
Although museums are built to protect and preserve art, they are also dependent on keeping people interested enough to look at their exhibits. For museums, creating an interest in the public is vital because it is the only way they can stay relevant, showcase their art and make profit. While there are many different kinds of museums today, they all seek to maintain a high level of attendance and establish themselves as leaders in the community.
Near Field Communication (NFC) Technology and QR Codes 
Near field communication (NFC) technology is used to exchange data between devices brought close together, usually no more than a few inches. NFC has many applications, including tags in posters or stickers in magazines that trigger videos when touched by a smartphone.
Personalization is key when it comes to NFC. We live in a world of mass communication, where everything is made as quickly and as cheaply as possible. However, people want to feel special. They want personalized experiences, and they want to feel like your business cares about them and their needs. Answering questions and providing additional information can go a long way in establishing goodwill and making your customers feel like they're individuals and not just another number.
NFC technology allows you to do just that. By providing relevant information, you can create a truly personalized museum experience for your customers. Our digital tool is quickly deployed in your public spaces. It can serve as an interactive signage, a docking station, a guided tour, a table order, or a relay to reservation systems. 
With their cell phone, visitors can instantly access your multimedia content without the need to download an application, log in. Plus, they avoid physical contact with equipment as all they need is their mobile phone. No more need for audio guides or paper programs!
Create a digital tour for your museum 
What can museums do to attract visitors?
Museums attract potential visitors by offering exciting exhibits and displays, acquiring masterpieces from renowned artists, providing educational programs for all ages, offering meeting spaces, catering to the needs of the physically challenged, and many more ways.
When planning how to attract potential visitors, museums conduct museum surveys to find out what people want, while also promoting their events on social media platforms like Facebook, Instagram and Twitter. They also provide special offers and discounts via email, text messaging, or their websites. 
Here is a list of the best tips to attract museum visitors:
Enhance Access for Young Visitors
Here are some ways museums can make their institutions more accessible to a younger generation:
The challenge is to make institutions more relevant to attract younger audiences. That means creating a space where they can connect with what they already know.  For example, a history museum could capitalize on the popularity of video games by creating an exhibit that explores how our modern experience with virtual reality has influenced our interpretation of historical events.
To do this well requires sensitivity toward who young people are as individuals and what interests them. Museums should strive to become experts not just in art or history but also in their visitors.
Offer Affordable Experiences
Asking young people to pay the total price isn't going to work, especially since many have limited income. A better way for museums to build loyalty is through discounted memberships and special pricing for schools and students. 
Throughout The Year, Host One-Of-A-Kind Events
The most common way to attract visitors to museums is by hosting unique events throughout the year. Museums create special exhibits with activities that are not just artistic but also educational. 
For instance, some museums offer guests the chance to enjoy a lovely afternoon of music and dance performances. You should also take into account that some people may even go to museums just for the food. These types of events attract hundreds if not thousands of visitors regularly.
Museums can also host sales to purchase artwork from the museum's collection at a discounted price. By hosting these events, museums can increase their revenue and attract more visitors.
What exactly is cultural mediation?
Build Partnerships
One of the most successful ways to enhance museum attendance is via partnerships. A big part of a museum's job is to encourage people to visit from all over the world. Partnerships with local businesses can be highly effective in doing this. Informal partnerships are a common way for museums to attract individuals who otherwise would not have visited the museum. 
For example, a museum might work with a local hotel to put out a brochure that encourages visitors to see something that they wouldn't ordinarily see while staying at that hotel. If the partnership works out well for both parties, this could turn into an ongoing promotion by which the two entities promote each other's offerings. Often, these partnerships are established between businesses in different fields but that offer something complementary to each other.  
Partnering can also help museums reach new audiences by exposing them to different types of art and culture.  For example, a museum focused on indigenous American art may partner with a museum focusing on Egyptian art to expose its patrons to something new and different. In addition, partnering can lead to broader collections that rely less on local or regional groups and more on international works.
Exhibits Should Be Brought To The Community
Museums are not only places where priceless artifacts are preserved but also sources of learning about history, culture, and science. They allow people to learn more about art and inspire them to be better individuals in the community.
Here are key ways museums can attract visitors by bringing exhibits to the community:
Community-Based Exhibitions
Museums can conduct exhibits that are relevant to their community. For example, in the United States, the Smithsonian Institution presents events such as "Mining for Solutions," a mining exhibit brought to local communities and schools. This allowed students to learn about mining and its history while promoting interest in science. Museums can do this through various media such as traveling exhibits or online resources and activities.
Collaboration with Other Organizations
Local organizations and businesses can help promote museum exhibits and attract visitors by collaborating on these efforts. For example, the Smithsonian Institution works closely with NASA on its traveling astronomy exhibit to present it at various locations throughout the country.
Social media campaigns can help increase awareness for local or traveling exhibits that museums want to bring into their communities. Museums should start conversations on social media platforms such as Facebook, Instagram, and Twitter.
Investing In Social Media Management
Social media is becoming an increasingly important part of museums' marketing strategy. A strategic museum marketing plan is more complex than you might think. It's not enough to determine the museum's purpose and its relationship to the community and then set out on a course of action. 
For museums, in particular, social media is an ideal way to share content with potential visitors. However, there are several reasons why some museums aren't investing in social media the same way they invest in their online presence. One of these is because of misconceptions about what social media is. 
Embrace Smartphone Culture
Smartphones are quickly becoming an extension of our bodies. It's not uncommon to see someone walking down the street staring at their phone with their head down, oblivious to their surroundings. As museums increasingly embrace smartphone culture, apps are helping people become more engaged with exhibits and artworks. Visitors can take selfies with artworks, check out images of the exhibits they're visiting and share them on social media. 
To attract more visitors, museums need to think outside the museum walls and look for innovative ways to connect with their community. For example, the port of Quebec transformed its paper rally into a digital one to send visitors on an insightful adventure (watch the video!). Museums can organize similar virtual journeys by taking visitors outside of the museum and into public places. 
In this article we described key strategies to attract visitors to museums but these are just a few of the many things that museums can do to increase museum attendance. Each museum has its unique approach to bringing in visitors. Still, many will do whatever it takes to ensure that there is always someone around to help curators do the critical work of preserving history.  The more people visit museums, the more likely history will be preserved for future generations!
Discover our other articles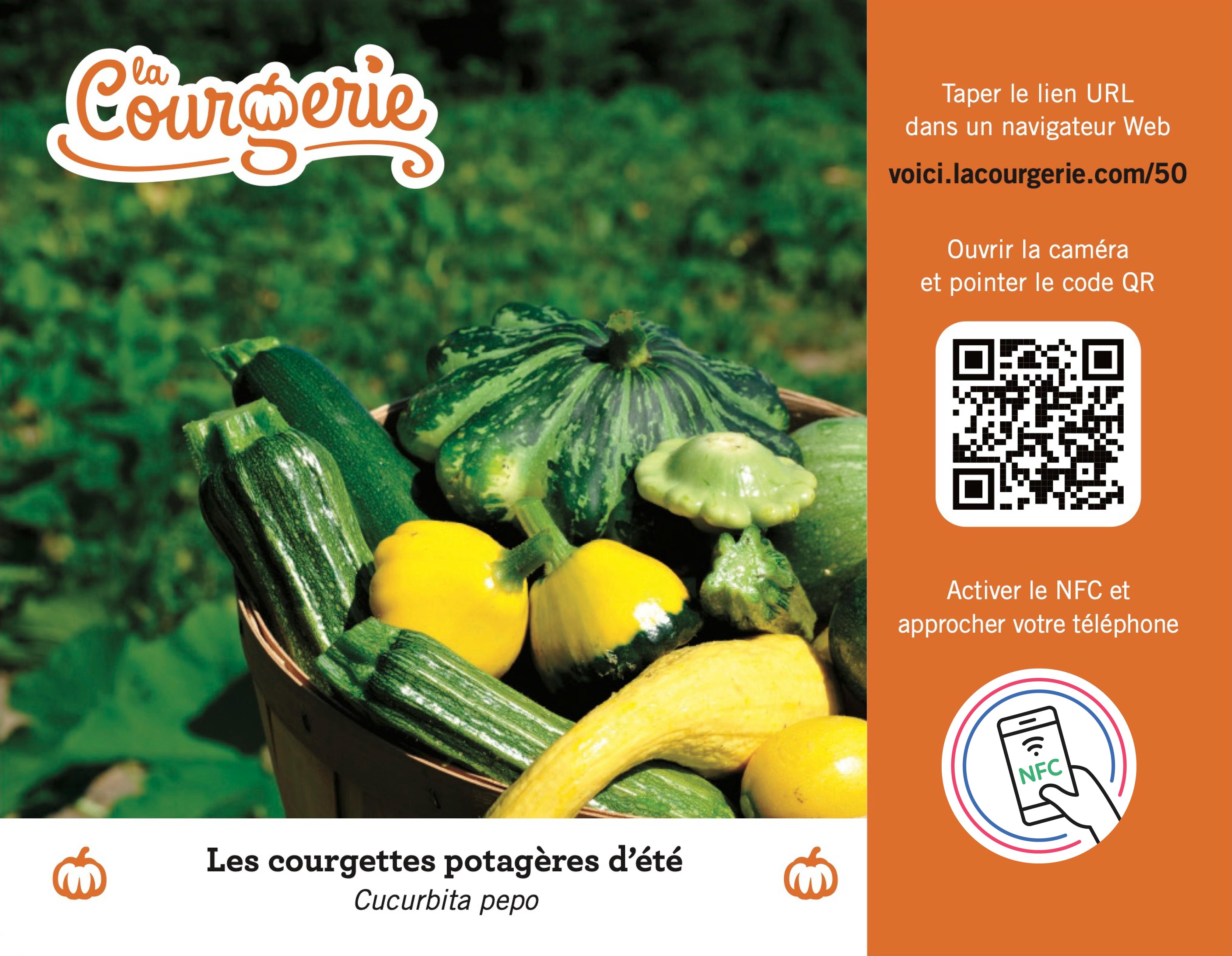 Whether it's attracting visitors to a historical site, guiding hikers along a walking trail or increasing sales at a commercial establishment, delivering rich and unique content is a key element in enhancing your organization's communication strategy.
To this end, the creation of an interactive poster based on technological innovation is advantageous, especially with the massive use of smart devices and the promotion of contactless communication due to Covid-19. 
The main components of a communicative and interactive poster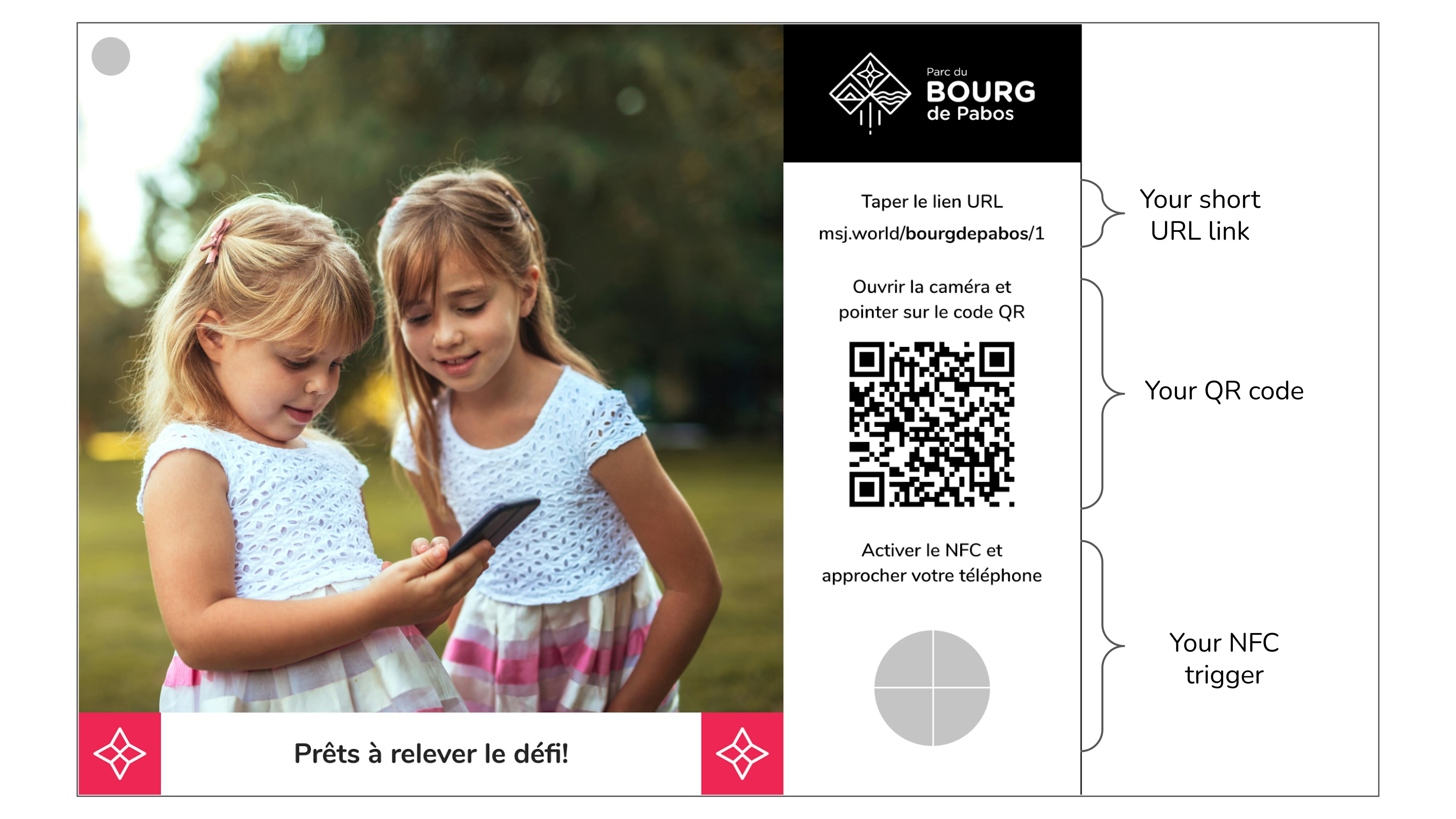 A communicative and interactive poster makes the experience tangible and serves as a physical point of interest. It contains the following elements:
Facilitate access to content:
A QR code: it is a 2-dimensional code that allows to encode data. It is often used to identify a product or navigate to a web page;
An NFC tag is an adhesive label containing a chip that allows a small amount of information to be exchanged with a wireless device. It is often used for contactless payments, but it also allows the exchange of information;
A short URL: this is a short web address that can be typed quickly on the device to access a web page. It is especially useful for devices that cannot read QR codes and NFC tags.
Draw visitors' attention to value-added information:
The logo: it is a key element to build the visual identity of your organization and distinguish yourself from your competitors.
Short textual content: a title and a short sentence should concisely describe the content to be visited that leads to a call to action.
Attractive design: colors and images should be in harmony with your organization's corporate identity. The design should be simple and personalized. Visual content is important to make users want to interact with your poster.
Triggers: What information do you need to give your designer?
The characteristics of QR codes
The codes provided are linked to your application within the MySmartJourney platform. Thanks to the data tracking system, you can collect statistics and distinguish visitors according to different triggers (NFC, QR code or short URL).
The QR codes on our platform are black and white to make them easier to read by mobile phones. It is also more reliable when the light intensity is low and when there are reflections. However, you can customize the color of the QR code as long as it is dark and without a gradient.
Opting for the classic version, without adding any visual motifs (integrated logo, foliage, flowers, etc.), is more practical, as the advanced versions may not be recognized by some devices.
Proper positioning of QR codes
Whether for large installations or for posters, the QR code must be large enough to be decoded by the mobile device. The minimum recommended size is 3 x 3 cm.
When signs are scattered on a trail, in a park or in the city where there is more traffic, they should be larger. For example, the minimum recommended size of the QR code is 7 x 7 cm. Remember that the size of the code depends on the distance from which the visitor will scan it.
If you are displaying QR codes for signage or way finding, make sure your codes are at least a foot by a foot size so that users can scan them from a distance and access the information. 
How do museums attract visitors?
Properly integrate NFC tags
The NFC triggers have a diameter of 30 mm and are stuck on the front side, over the poster, with the design facing up. This position is more practical and aesthetic, as the signal is transmitted through the magnetic strip at the top of the pad. This allows the content to appear more quickly. The technological aspect of the tablet is attractive to visitors.
It is also recommended that NFC triggers be placed to the right of the posters, as low as possible. This is the most ergonomic location, since most users are right-handed. The size of the QR code is proportional to the size of the poster, while the size of the NFC chip is fixed. To draw attention to your tags in a large poster, it is important to add graphic elements that surround it, such as arrows.
Short URLs
Short URLs are mainly intended for users whose mobile phones cannot decode QR codes or NFC tags, such as some BlackBerry phones. The visitor can quickly note the short URL to access your content. Hence, the importance of including short URLs on your posters. With the MySmartJourney platform, there is a default link associated with the project's web page. It is also possible to get a custom link
This is the common form of a short URL: 
Here it is the default link: msj.world/enseigne/1
Here, it is a personalized link: enseigne.com/10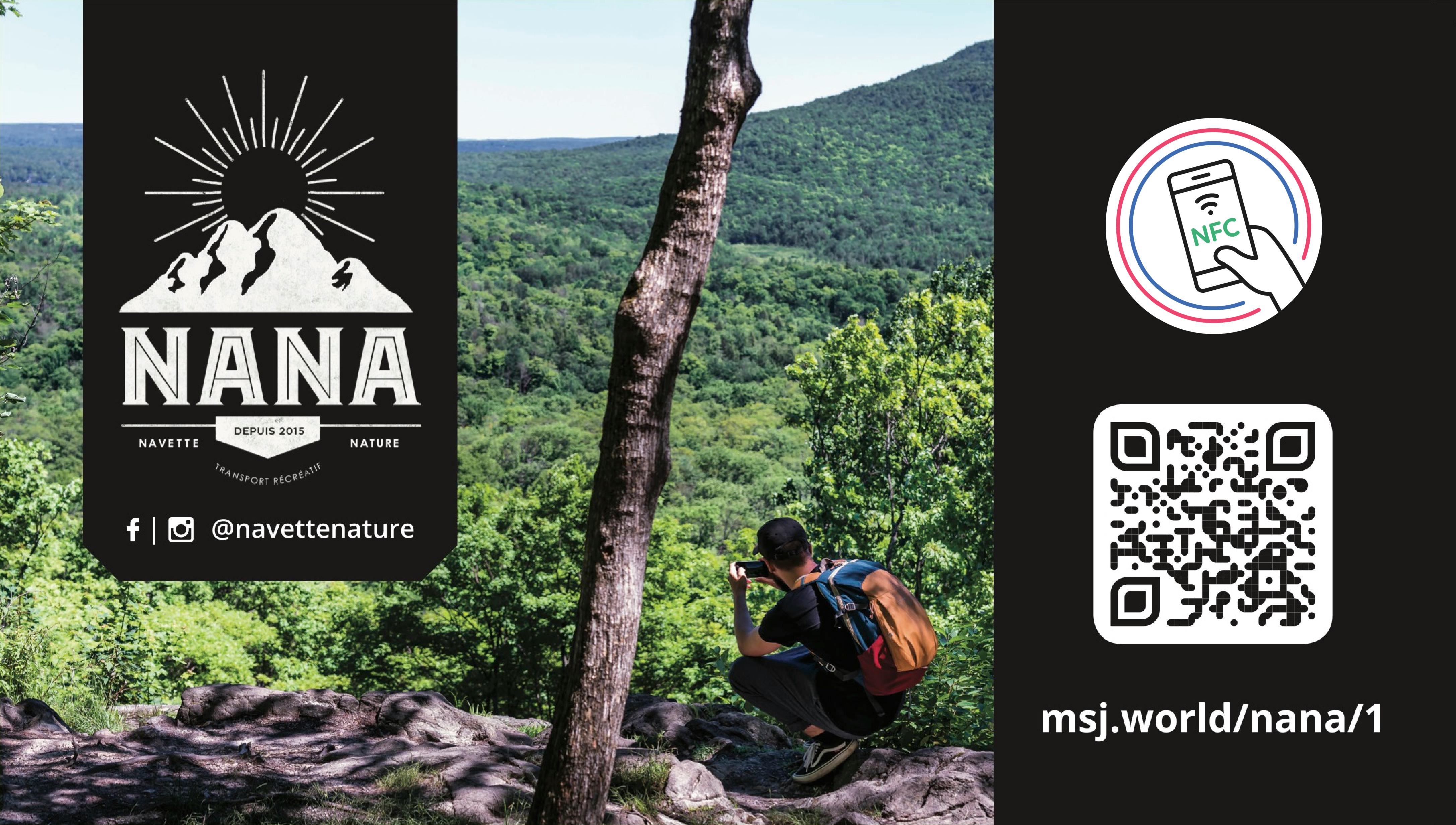 How does our digital route for tourist and cultural sites work?
Contents of a good poster: What information should you give to your project manager and designer?
Instruction phrases
Notice on your posters are essential to direct the user to your content. They must be adapted according to your audience (age category, interest, lifestyle, etc.).
Here are three versions that you can use as a basis for writing reliable instructions. You must carefully choose the sentences according to the theme and purpose of your poster. They should be reassuring and make it easy for your customers to use the technology.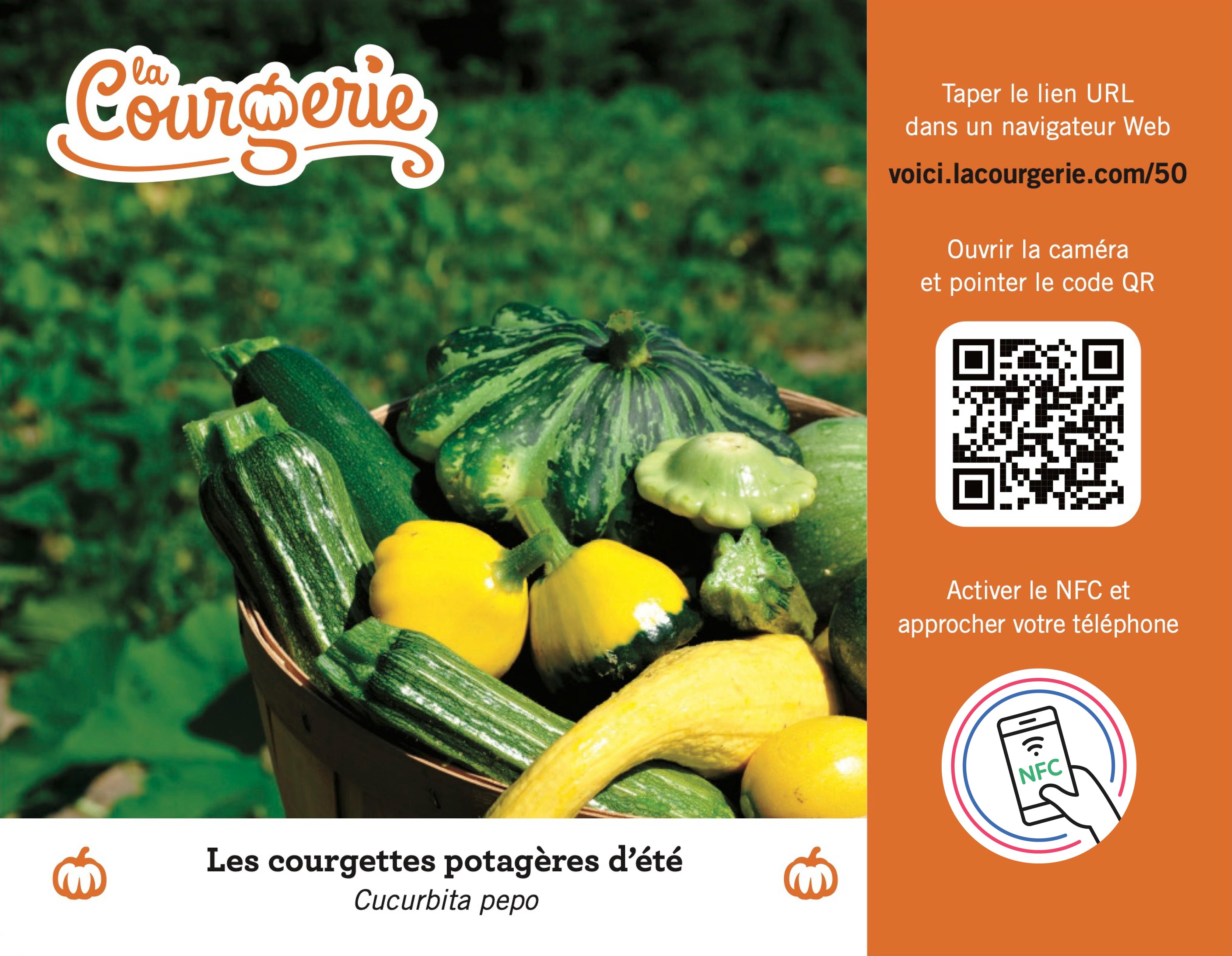 Short version
The instructions can be simple and very short.
NFC: Activate NFC and bring the top of the phone close to the phone;
QR code: Point the phone camera at the QR code.
Intermediate version
Instructions can be simple and short.
NFC: Open the NFC, approach the top of the phone and open the link that appears.
QR code: Point the phone camera at the QR code and open the link that appears.
Long version
Some clients prefer to use a more detailed version to explain to their visitors how to use the technology, especially when no one is available to accompany them.
QR code:
Open your camera.
Look at the QR code.
Open the link at the top or bottom of the screen.
NFC:
Activate the NFC (contactless payment) function in your settings.
Move your phone towards the NFC tag without touching it and wait 2-3 seconds.
Open the link at the top or bottom of the screen.
Short URL: 
Enter the URL into the browser.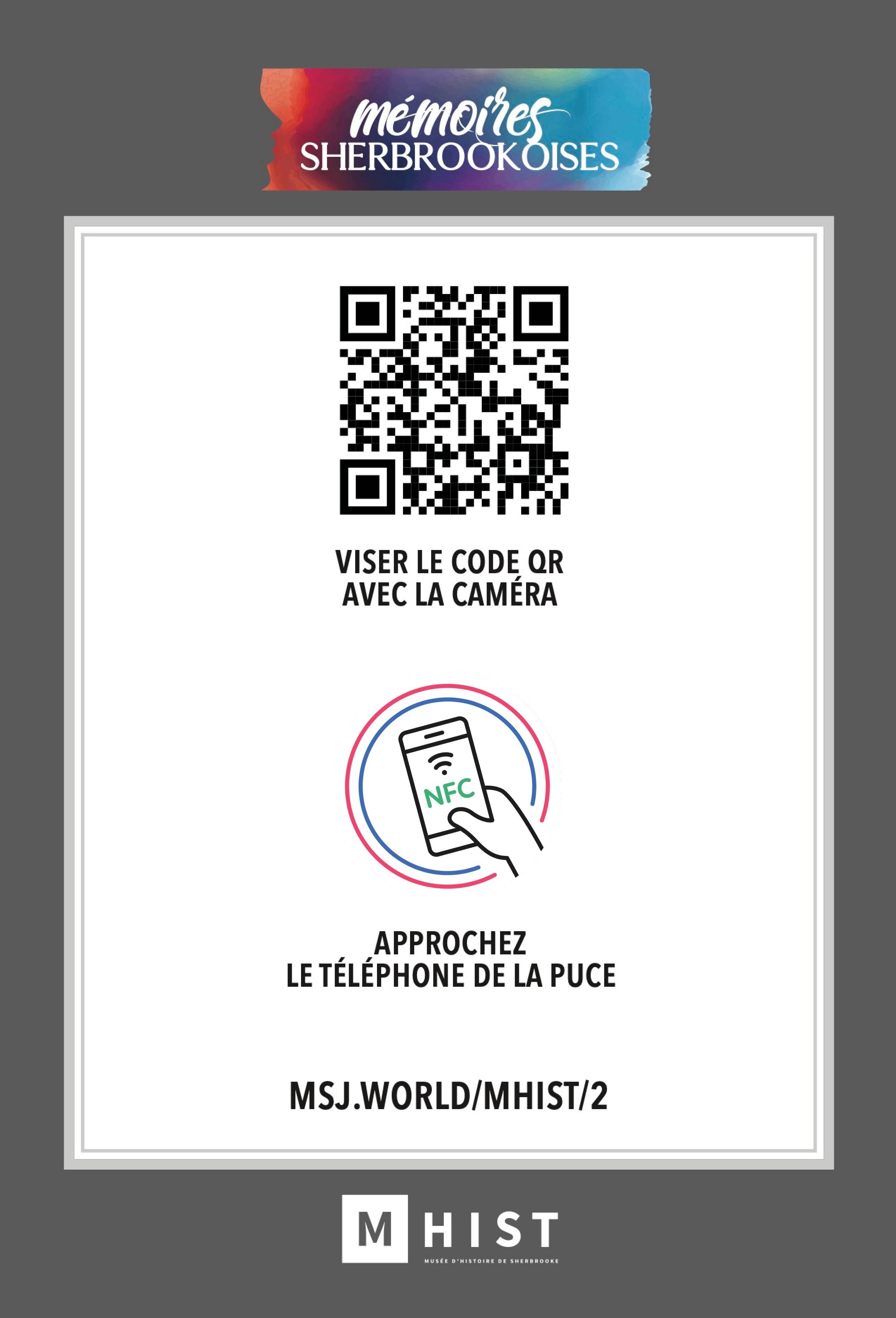 Writing the text
Textual content should be focused, concise and include a call to action. It should also be relevant to your project, your audience and your brand image to engage the reader in your content.
6 ways to make your destination stand out
Posters: What information do you need to give your printer?
You must provide your printer with certain information to ensure that the materials used are suitable for the triggers (QR code or NFC tag). It is not advisable to use metallic materials for posters if you place NFC triggers. This is because the NFC tag works by magnetic fields. Although it has a built-in anti-metal, metals can interfere with its operation and readability by mobile devices.
If you feel that an aluminum sign is essential or there is a metal structure near the sign, keep in mind that NFC detection will be slower. To reduce the effect of the metal structure, you can add material under the poster to cut the magnetic field or add rubber under the triggers to isolate them.
The choice of material covering the poster should be as matte as possible to minimize the effect of reflections that can interfere with the reading of QR codes. The less matte it is, the bigger the QR code should be. You can customize the colors of the NFC chip to match your organization's corporate identity by covering it with a self-adhesive vinyl film, for example. Make sure that the NFC chip remains clearly identifiable by the visitor.
Printing your posters: What information do you need to give to your project manager?
Here are some important guidelines for printing your posters.
You prepare the design with your graphic designer;
We provide you with QR codes and a recommendation document;
You choose your printer and have your posters printed;
We send you the NFC tags and the sticker by mail;  
You stick the tags on your posters yourself, making sure to assign the NFC tags to the corresponding posters;
You set up your posters.
It is recommended to use Scotch brand adhesive, extra strong double-sided, cross-shaped to stick your NFC pads.
Physical specifications and options
Poster printers advocate the use of certain materials, formats and other key characteristics of physical media.
Materials
The most popular choice: PVC foam (e.g. Cintra) in ⅛, 1/4 or 3/16 inch thickness.  This is the same material used for bus advertisement signs. It is lightweight, sturdy and not too expensive and can be put up indoors and outdoors;
Laminated paper/cardboard;
Aluminium/alupanel;
Support strips
To have completely ready-to-use posters, you can add a 3M strip service. They are available for indoor and outdoor use.
Formats
The most purchased are:
3 x 7 in;
9 x 12 in;
11 x 17 in.
Setting up your posters: What information do you need to give to your project manager?
Be ergonomic
If you are using NFC triggers, remember to place the posters at arm's length from visitors. Consider all possible conditions and put yourself in your visitor's shoes. The recommended optimal height for placing the reading elements is between 3.5 feet and 5.5 feet. This height is suitable for visitors with reduced mobility and for children.
Last check
In order to present a good poster for your visitors, you should check these points before installation:
The height of the posters (not too high, not too low);
The operation of the links and the updating of the content;
The readability of the text;    
How media works (photos, videos and audio files).
Need to offer your visitors a digital experience?
Delivering informative, varied and up-to-date content to your customers is an important pillar in stimulating their engagement. MySmartJourney puts its technology to work for the development of your organization. 
Thanks to the ease of use of triggers, you can attract your visitors and direct them to your content in a fun and enjoyable way. A digital signage system also allows you to collect real-time statistics about your visitors' behaviour towards the products or services you offer.
Read the article