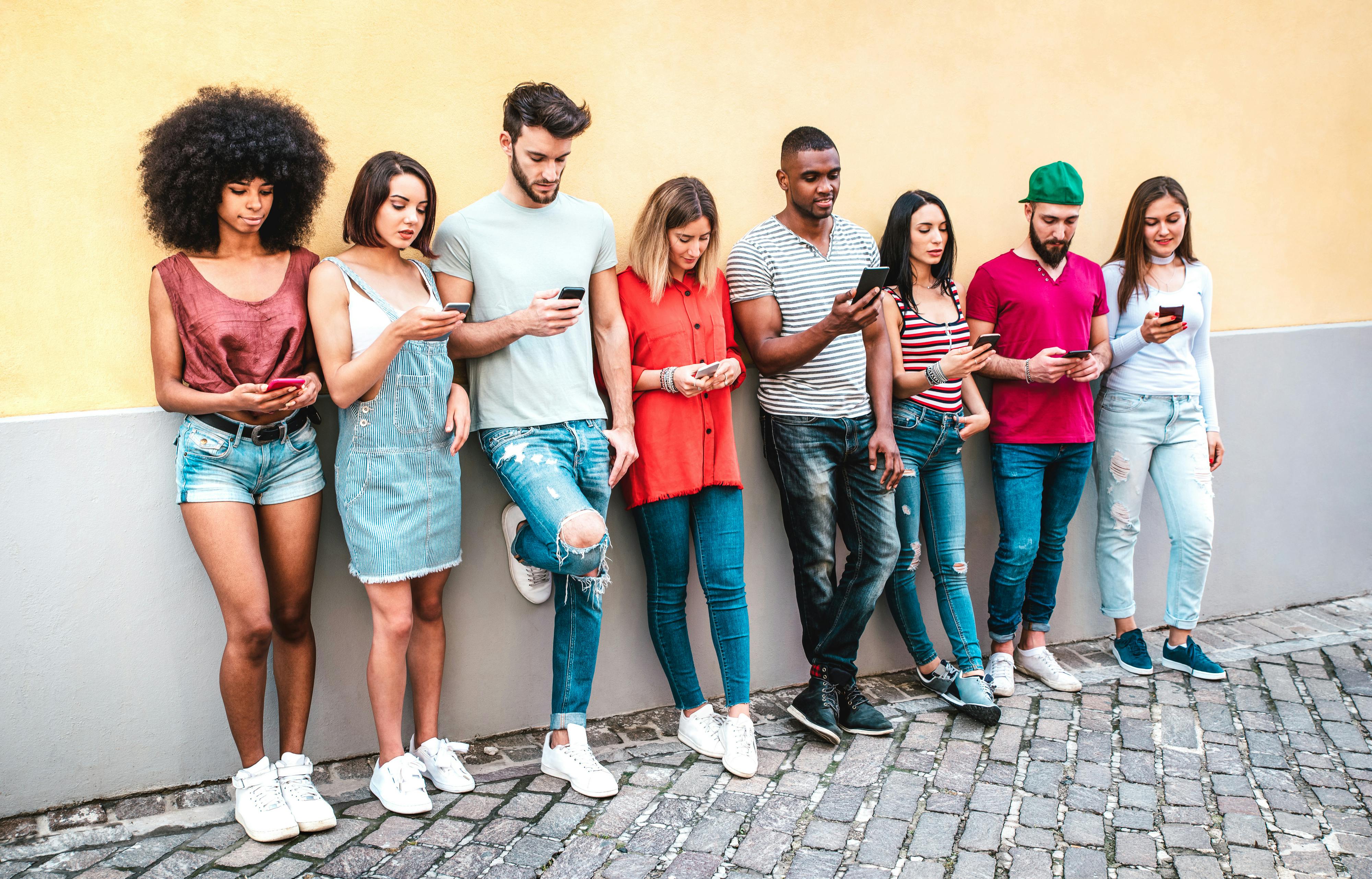 Blog
 / 
What Exactly Is Territorial Marketing?
What Exactly Is Territorial Marketing?
Territorial Marketing Definition
Territorial marketing is a strategy that aims to improve local development actions in cities or regions by adding value to the area in which they are located. This added value can come from different things such as geography, climate, history, culture, etc.
A given market is therefore seen as a competitive product that needs differentiation. In this situation, the supply is the territory whereas the demand includes citizens, residents, local businesses, foreign direct investment, tourists, etc.
It essentially develops strategic plans to promote certain parts of interest, while improving overall well-being. These actions take place within a sustainable environment, which involves considering social issues and environmental concerns. A territorial marketing strategy must be dynamic and constantly evolve because the products it deals with, the territories, have a temporal dimension that requires constant adjustment.
Why Is Territorial Marketing Important?
A successful territorial marketing plan can attract tourists, increase capital and economic income in a region as well as revitalize a territory by retaining companies in places that would otherwise have little to offer. 
What Is Territorial Marketing Used For?
Territorial marketing is an interdisciplinary methodology that allows a region to position itself on a national and international scale, projecting a strong and appealing image to the world. 
Territorialization has several advantages, including tourism development, regional development, economic development and the generation and preservation of wealth for local communities. Urban marketing aims to improve the material and immaterial aspects of an environment so that its ability to attract and retain people's attention doesn't decline while always striving toward sustainable development.
Phygital Marketing In Tourist Destinations
What Factors Influence Territorial Marketing?
It is not possible for any company or organization to develop a successful territorial marketing plan without considering the factors that affect a specific territory. These include the cultural elements that characterize a given country (its languages, ways of relating to one another, its values, and customs) and the economic conditions that shape the market.
8 City Marketing Strategies to Attract More Travelers
How To Develop A Territorial Marketing Approach
A territorial marketing strategy is a strategic tool used to strengthen the position of a brand within a specific territory. Territorial strategies are based on three main axes:
Analysis of the social and economic environment of the area you want to promote
Identification of the target audience
Definition of the goals to be reached
In order to define a territorial strategy, it is important to know what the market is like, and what the competitive landscape looks like. This requires a thorough knowledge of the local economy and society. You must analyze the socio-economic context of the region and determine whether there are particular factors that could affect the success of your project. Once you've identified the key points to consider, you can start analyzing the different aspects of the territory.
Once you've defined the objectives of your campaign, you can choose the best channel to reach your audience. A territorial plan is always associated with a certain tone of voice, and each one needs to be adapted to the type of communication desired. Finally, you can decide which products or services to offer. A good territorial strategy is the basis for any effective promotion campaign.
6 Ways To Make Your Destination Stand Out
Successful Examples Of Territorial Marketing Strategies
The ONLYLYON Project 
The ONLYLYON project aimed to promote the city of Lyon, a major tourist destination in France. This project consisted of developing a set of measures focused on enhancing the image of the city and promoting it as a creative hub. 
To achieve this, the city was divided into twelve different areas, each one representing a specific sector of activity. These sectors included culture, design, gastronomy, architecture, etc. Each area had a coordinator responsible for managing the activities carried out there. The objective of the project was to transform the city into a place where creativity thrives. In addition, the project intended to highlight the diversity of the city and encourage visitors to discover its many facets.
In particular, the project sought to increase awareness of the city's assets and showcase its unique features. A key element of the project was the development of a digital toolkit designed to help people understand the city better and find information about what they want to know. 
The ONLYLYON initiative received support from numerous partners including the City Hall, the Chamber of Commerce and Industry, the Regional Council, the Office National de Tourisme de la Région Rhône-Alpes, the Tourist Office, etc. This project is a good example of territorial branding, which is one of the many tools of territorial marketing. 
Inspired By Iceland 
The Government of Iceland, the Municipality of Reykjavik, the airline Iceland Express, and 80 other local authorities are taking part in a territorial marketing campaign called "Inspired by Iceland." This project aims to promote Iceland as a tourist destination and encourage visitors to make it one of their favorite destinations. This project is centered around territorial promotion, which is a territorial strategy tool. 
Due to the eruption of the volcanic ash cloud that covered much of Europe, bookings by tourists to Iceland have declined by about 20% compared to previous years. As a consequence, the parties involved have taken the opportunity to use the attention given to the country to convey positive messages, promote its potential and reassure tourists, especially those worried by the misinformation spread by international media.
In addition, the tourism industry is working hard to ensure that the image of the country does not suffer negative repercussions due to recent events. To do this, the government has launched the "Iceland hour," an hour during which the entire nation is invited to share their experiences, culture, and history with friends and relatives around the world.
A video showcasing the beauty of Iceland and showing how much fun it is to travel there has been produced and is being distributed via social networks and YouTube. In addition, the tourism sector is launching a video contest inviting people to submit videos highlighting the best aspects of Iceland. 
How To Get Funds To Create A Mobile Digital Journey
La ville du Mans
The city of Le Mans collaborated with Mysmartjourney in order to tell stories and anecdotes of some of its emblematic places like the Parc de Tessé and the Jardin des Plantes. Together, they created posters with QR codes that can be found all over the city so that visitors can discover this Plantagenet city which has almost 2000 years of history to tell.
Visitors simply need their mobile phone to participate in this immersive experience. All they have to do is scan the QR code or approach their device to trigger the NFC tag. If these two methods don't work, there is a third solution. Each poster has a short URL that redirects visitors to the desired web page.
Several "Did you know?" signs offer interactive winks and allow the discovery of 11 different sites. The metropolis team set up an open-air museum as a first step. Since then, the system has also been used to provide value-added information during the legendary race. More points are planned to be deployed in 2023.
Create Digital Routes For Your Destination 
Territorial marketing is an integrated approach to providing quality services for local people, government officials, visitors, and foreign companies. It aims at achieving both service improvements and community development through its operations. After being subjected to an aggressive territorial marketing campaign, a certain territory will be able to develop in a responsible and sustainable manner over time. 
These actions will take place in the long run because they involve various aspects (social, economic, etc.) which require time to change and coordinate, and to establish a harmonious development system, where all elements profit. If you're looking for help to can create an app targeted at territorial marketing, we'd be happy to help you. 
MySmartJourney collaborates with touristic destinations, tourist routes and traveler services to help them leverage the potential of phygital marketing. Our digital tool can be deployed quickly in public spaces as an interactive signage, a docking station, a guided tour, and much more. With MySmartJourney, you can create personalized content and contactless experiences thanks to QR codes, NFC technology and short URLs. 
Here are key functionalities of the platform: 
Text, image, audio and video integration with YouTube, Vimeo and SoundCloud. 
Possibility to create quizzes and games with playful aspects thanks to action buttons. Redirection buttons are also available and can direct users to links from various websites.
Combination of complex scenarios and puzzles to energize the content and playfulness of the place.
Play mp3 and mp4 files and automatically optimize multimedia.
Integration of 3D and 360° contents with Sketchfab and YouTube 360.
Availability of forms through Google Forms, which allows you to collect data easily.
Add personalized souvenir photos with stickers and branded images through a Photobooth.
Possibility to order directly on the platform while respecting sanitary measures.
Scheduling of content according to fixed schedules. The scheduler updates the information for the user instantly and in real time.
Integrated statistics with Google Analytics in an anonymous way for the creation of automatic reports that detail user behavior.
Discover our other articles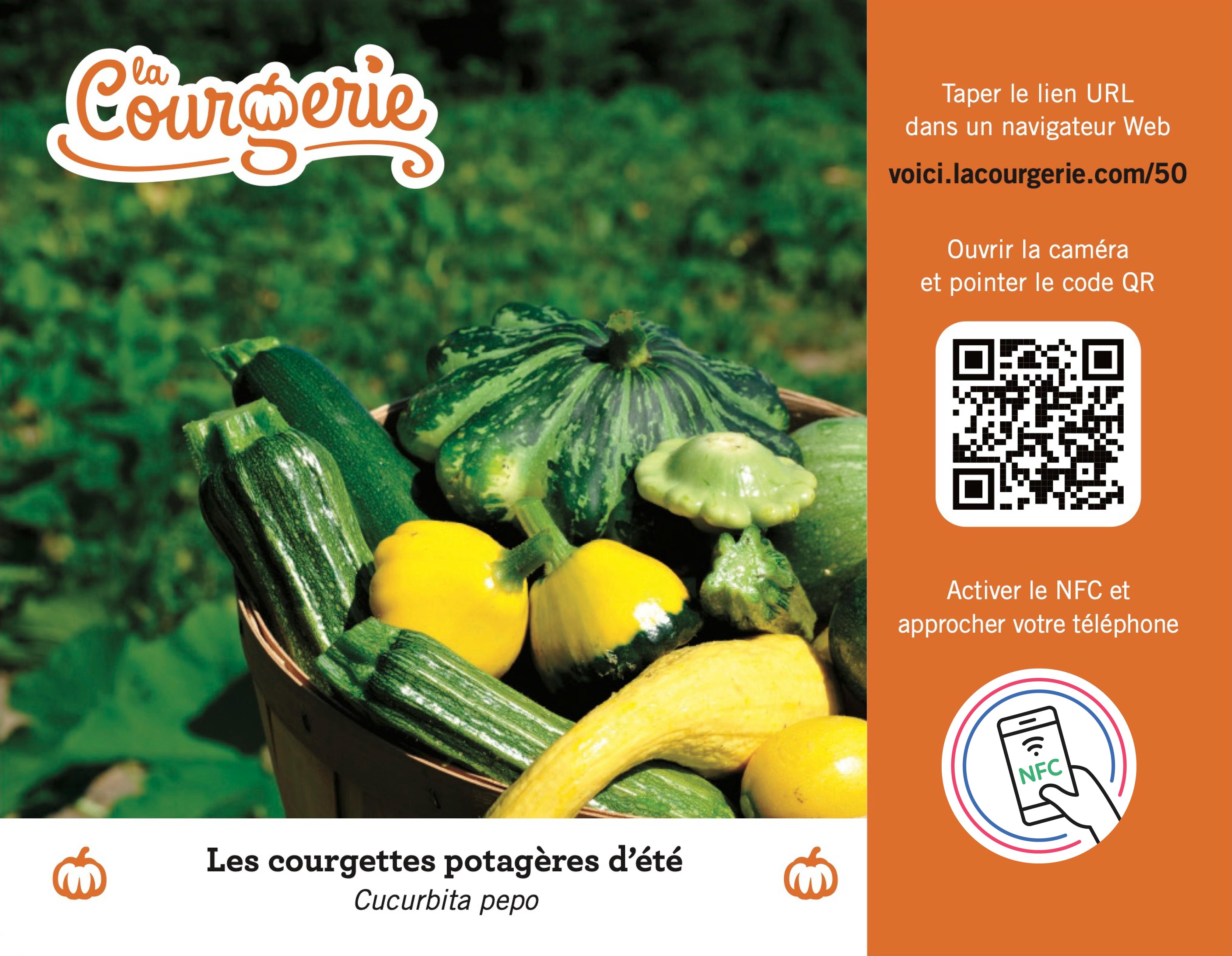 Whether it's attracting visitors to a historical site, guiding hikers along a walking trail or increasing sales at a commercial establishment, delivering rich and unique content is a key element in enhancing your organization's communication strategy.
To this end, the creation of an interactive poster based on technological innovation is advantageous, especially with the massive use of smart devices and the promotion of contactless communication due to Covid-19. 
The main components of a communicative and interactive poster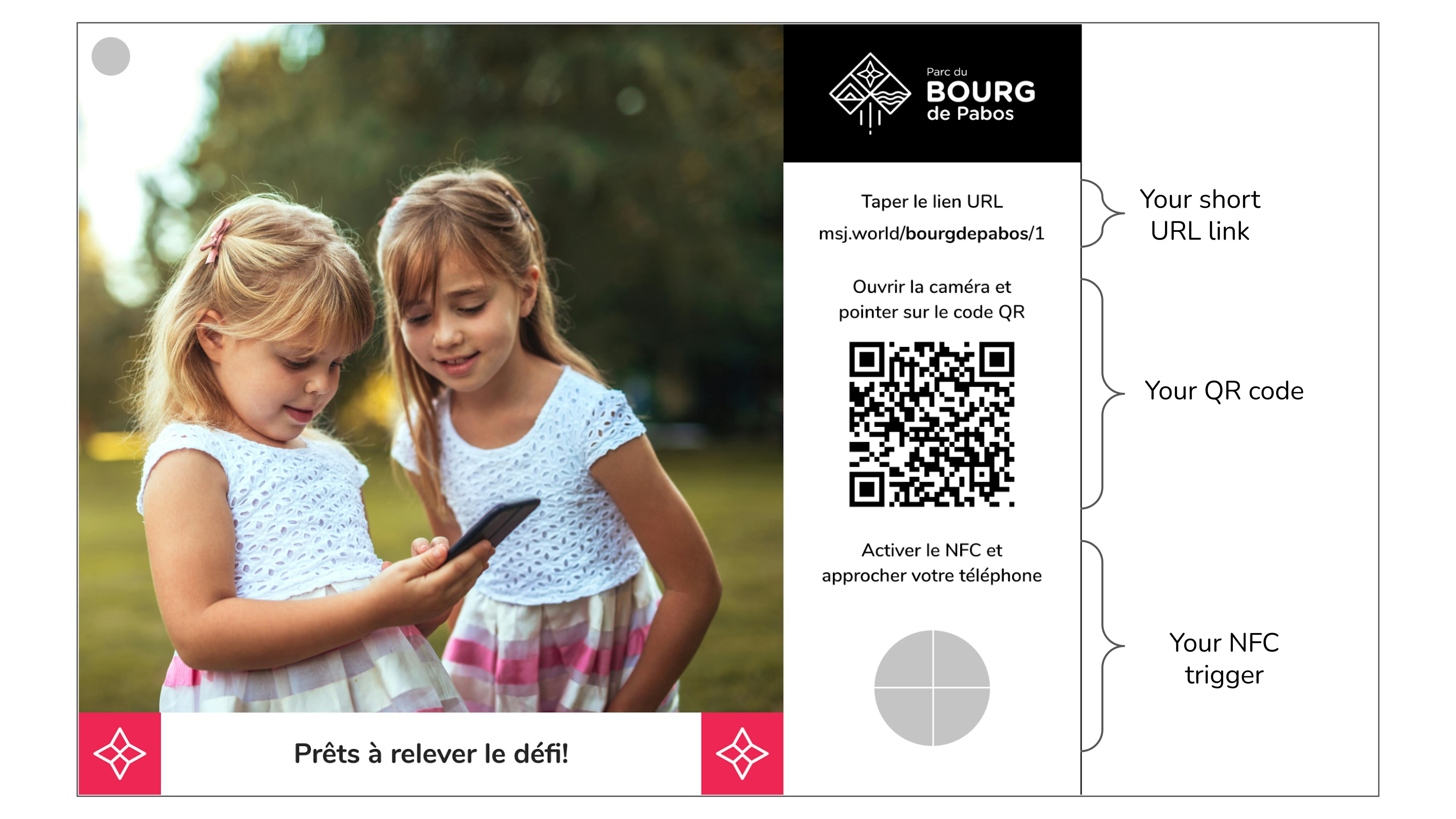 A communicative and interactive poster makes the experience tangible and serves as a physical point of interest. It contains the following elements:
Facilitate access to content:
A QR code: it is a 2-dimensional code that allows to encode data. It is often used to identify a product or navigate to a web page;
An NFC tag is an adhesive label containing a chip that allows a small amount of information to be exchanged with a wireless device. It is often used for contactless payments, but it also allows the exchange of information;
A short URL: this is a short web address that can be typed quickly on the device to access a web page. It is especially useful for devices that cannot read QR codes and NFC tags.
Draw visitors' attention to value-added information:
The logo: it is a key element to build the visual identity of your organization and distinguish yourself from your competitors.
Short textual content: a title and a short sentence should concisely describe the content to be visited that leads to a call to action.
Attractive design: colors and images should be in harmony with your organization's corporate identity. The design should be simple and personalized. Visual content is important to make users want to interact with your poster.
Triggers: What information do you need to give your designer?
The characteristics of QR codes
The codes provided are linked to your application within the MySmartJourney platform. Thanks to the data tracking system, you can collect statistics and distinguish visitors according to different triggers (NFC, QR code or short URL).
The QR codes on our platform are black and white to make them easier to read by mobile phones. It is also more reliable when the light intensity is low and when there are reflections. However, you can customize the color of the QR code as long as it is dark and without a gradient.
Opting for the classic version, without adding any visual motifs (integrated logo, foliage, flowers, etc.), is more practical, as the advanced versions may not be recognized by some devices.
Proper positioning of QR codes
Whether for large installations or for posters, the QR code must be large enough to be decoded by the mobile device. The minimum recommended size is 3 x 3 cm.
When signs are scattered on a trail, in a park or in the city where there is more traffic, they should be larger. For example, the minimum recommended size of the QR code is 7 x 7 cm. Remember that the size of the code depends on the distance from which the visitor will scan it.
If you are displaying QR codes for signage or way finding, make sure your codes are at least a foot by a foot size so that users can scan them from a distance and access the information. 
How do museums attract visitors?
Properly integrate NFC tags
The NFC triggers have a diameter of 30 mm and are stuck on the front side, over the poster, with the design facing up. This position is more practical and aesthetic, as the signal is transmitted through the magnetic strip at the top of the pad. This allows the content to appear more quickly. The technological aspect of the tablet is attractive to visitors.
It is also recommended that NFC triggers be placed to the right of the posters, as low as possible. This is the most ergonomic location, since most users are right-handed. The size of the QR code is proportional to the size of the poster, while the size of the NFC chip is fixed. To draw attention to your tags in a large poster, it is important to add graphic elements that surround it, such as arrows.
Short URLs
Short URLs are mainly intended for users whose mobile phones cannot decode QR codes or NFC tags, such as some BlackBerry phones. The visitor can quickly note the short URL to access your content. Hence, the importance of including short URLs on your posters. With the MySmartJourney platform, there is a default link associated with the project's web page. It is also possible to get a custom link
This is the common form of a short URL: 
Here it is the default link: msj.world/enseigne/1
Here, it is a personalized link: enseigne.com/10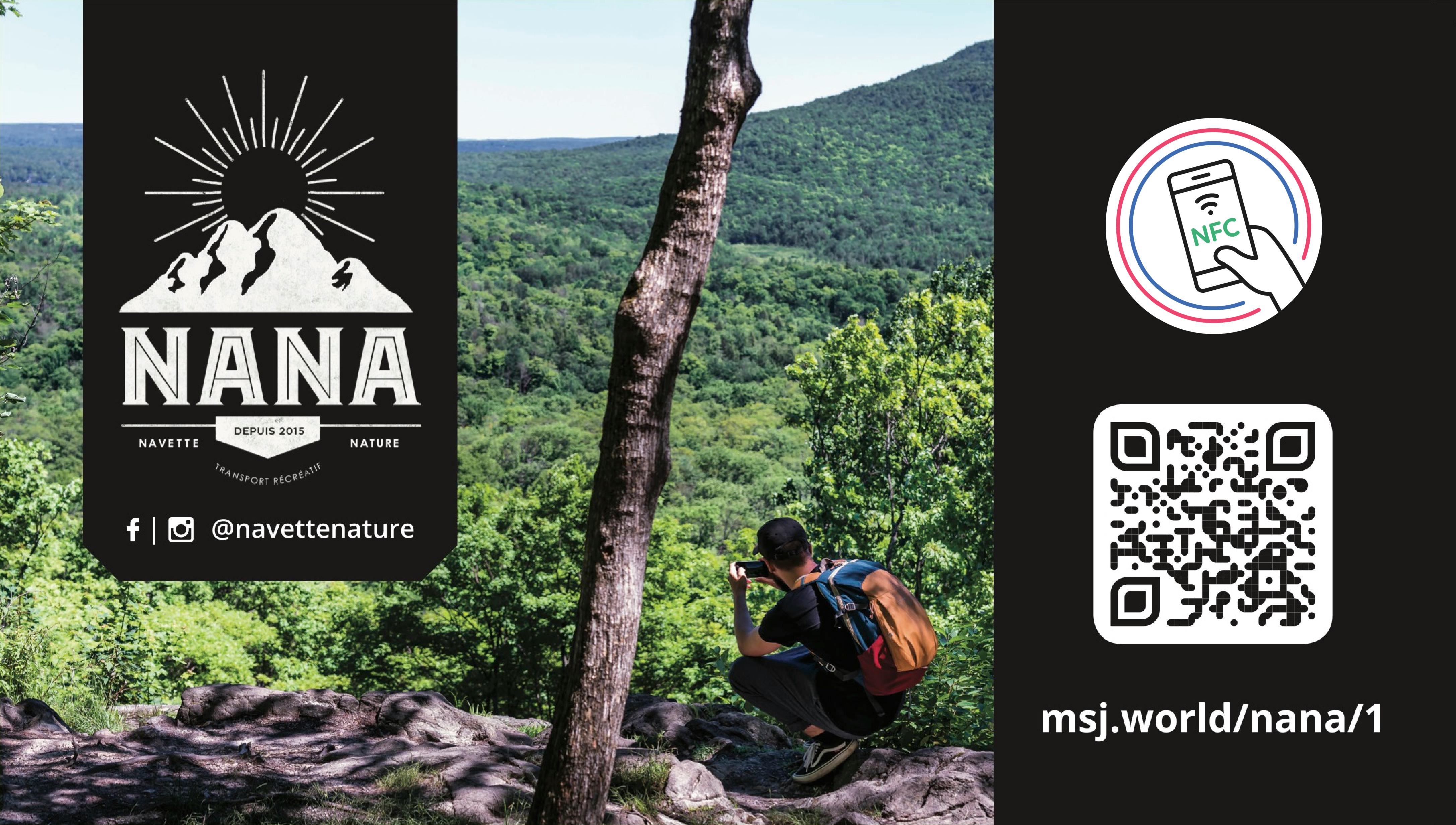 How does our digital route for tourist and cultural sites work?
Contents of a good poster: What information should you give to your project manager and designer?
Instruction phrases
Notice on your posters are essential to direct the user to your content. They must be adapted according to your audience (age category, interest, lifestyle, etc.).
Here are three versions that you can use as a basis for writing reliable instructions. You must carefully choose the sentences according to the theme and purpose of your poster. They should be reassuring and make it easy for your customers to use the technology.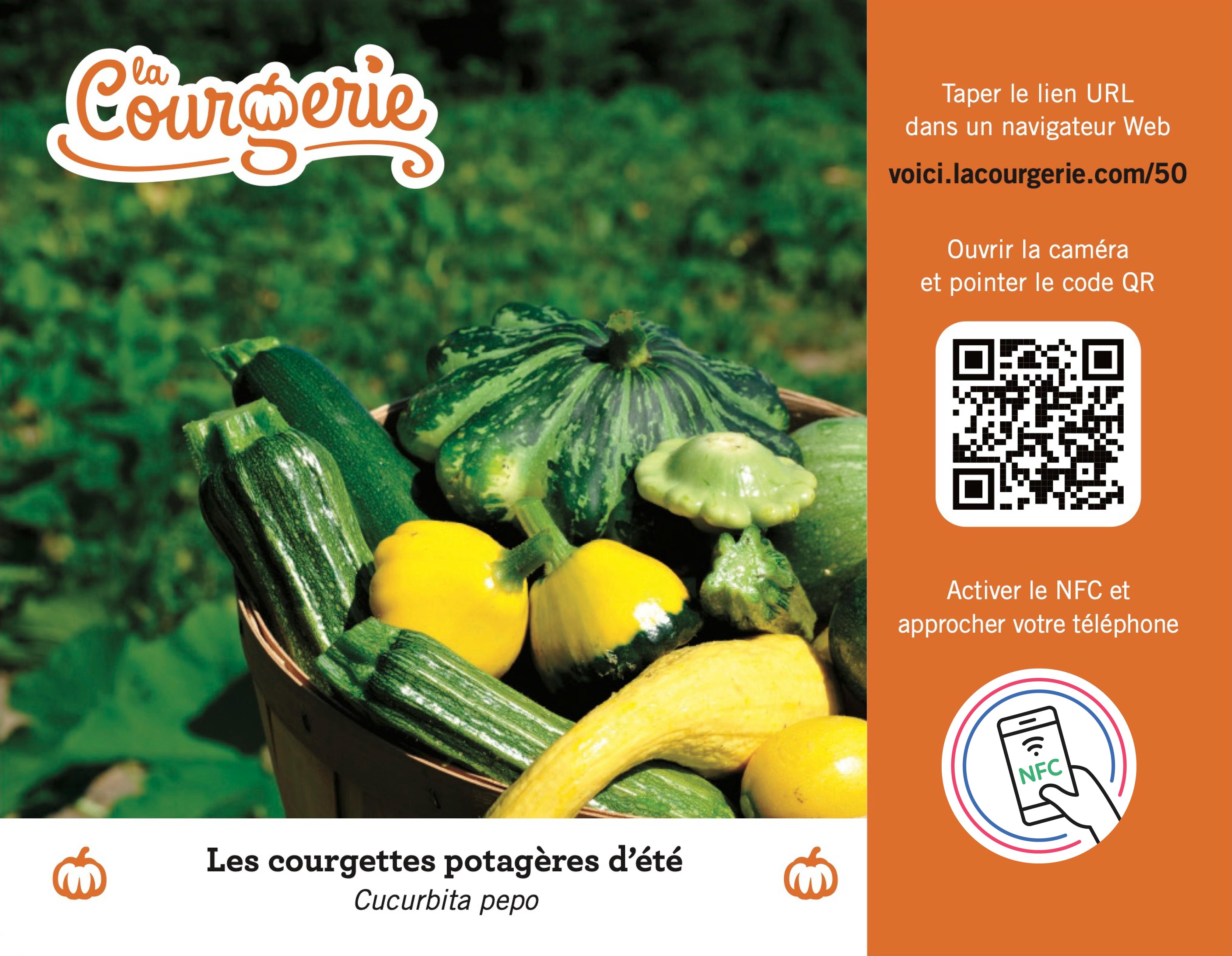 Short version
The instructions can be simple and very short.
NFC: Activate NFC and bring the top of the phone close to the phone;
QR code: Point the phone camera at the QR code.
Intermediate version
Instructions can be simple and short.
NFC: Open the NFC, approach the top of the phone and open the link that appears.
QR code: Point the phone camera at the QR code and open the link that appears.
Long version
Some clients prefer to use a more detailed version to explain to their visitors how to use the technology, especially when no one is available to accompany them.
QR code:
Open your camera.
Look at the QR code.
Open the link at the top or bottom of the screen.
NFC:
Activate the NFC (contactless payment) function in your settings.
Move your phone towards the NFC tag without touching it and wait 2-3 seconds.
Open the link at the top or bottom of the screen.
Short URL: 
Enter the URL into the browser.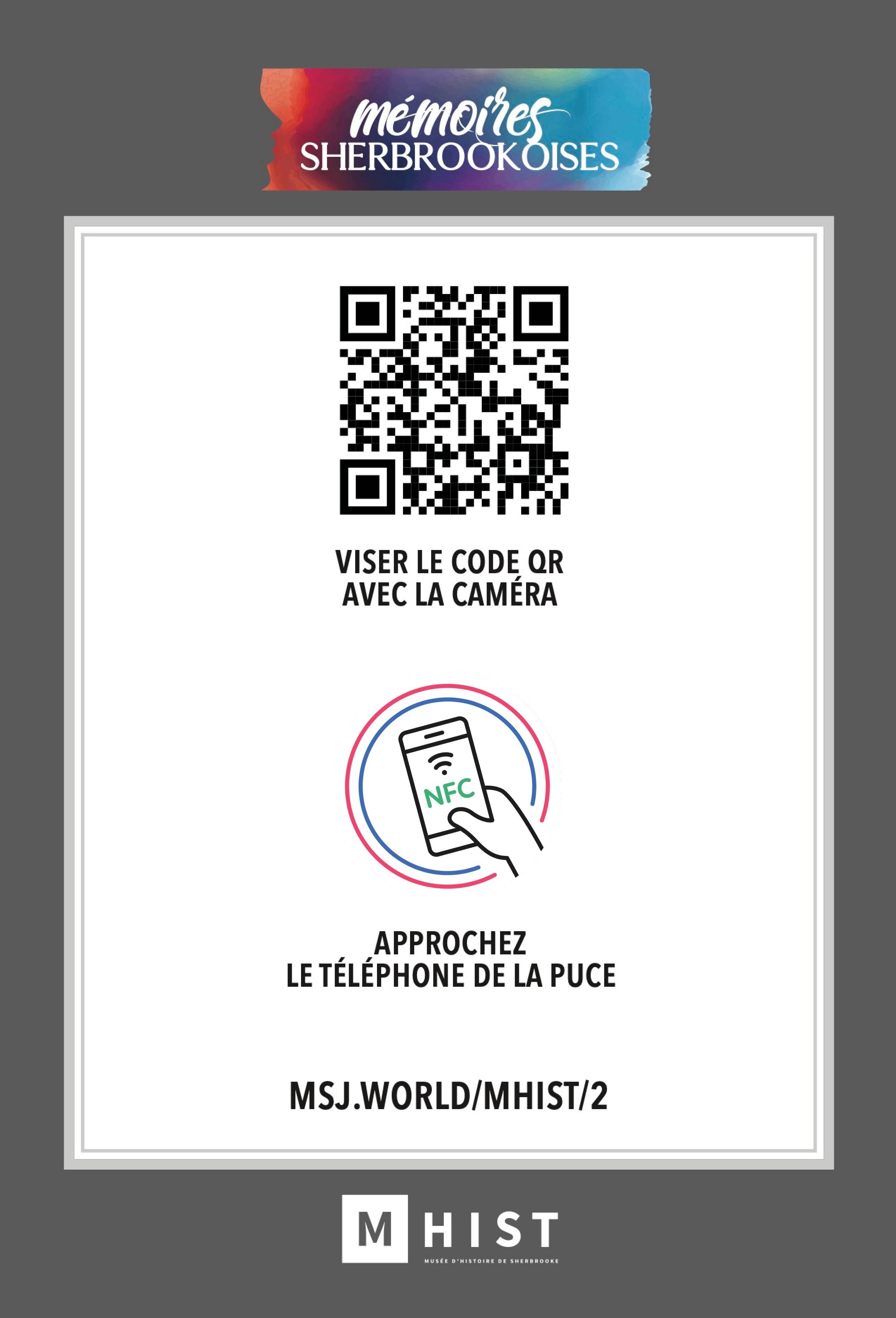 Writing the text
Textual content should be focused, concise and include a call to action. It should also be relevant to your project, your audience and your brand image to engage the reader in your content.
6 ways to make your destination stand out
Posters: What information do you need to give your printer?
You must provide your printer with certain information to ensure that the materials used are suitable for the triggers (QR code or NFC tag). It is not advisable to use metallic materials for posters if you place NFC triggers. This is because the NFC tag works by magnetic fields. Although it has a built-in anti-metal, metals can interfere with its operation and readability by mobile devices.
If you feel that an aluminum sign is essential or there is a metal structure near the sign, keep in mind that NFC detection will be slower. To reduce the effect of the metal structure, you can add material under the poster to cut the magnetic field or add rubber under the triggers to isolate them.
The choice of material covering the poster should be as matte as possible to minimize the effect of reflections that can interfere with the reading of QR codes. The less matte it is, the bigger the QR code should be. You can customize the colors of the NFC chip to match your organization's corporate identity by covering it with a self-adhesive vinyl film, for example. Make sure that the NFC chip remains clearly identifiable by the visitor.
Printing your posters: What information do you need to give to your project manager?
Here are some important guidelines for printing your posters.
You prepare the design with your graphic designer;
We provide you with QR codes and a recommendation document;
You choose your printer and have your posters printed;
We send you the NFC tags and the sticker by mail;  
You stick the tags on your posters yourself, making sure to assign the NFC tags to the corresponding posters;
You set up your posters.
It is recommended to use Scotch brand adhesive, extra strong double-sided, cross-shaped to stick your NFC pads.
Physical specifications and options
Poster printers advocate the use of certain materials, formats and other key characteristics of physical media.
Materials
The most popular choice: PVC foam (e.g. Cintra) in ⅛, 1/4 or 3/16 inch thickness.  This is the same material used for bus advertisement signs. It is lightweight, sturdy and not too expensive and can be put up indoors and outdoors;
Laminated paper/cardboard;
Aluminium/alupanel;
Support strips
To have completely ready-to-use posters, you can add a 3M strip service. They are available for indoor and outdoor use.
Formats
The most purchased are:
3 x 7 in;
9 x 12 in;
11 x 17 in.
Setting up your posters: What information do you need to give to your project manager?
Be ergonomic
If you are using NFC triggers, remember to place the posters at arm's length from visitors. Consider all possible conditions and put yourself in your visitor's shoes. The recommended optimal height for placing the reading elements is between 3.5 feet and 5.5 feet. This height is suitable for visitors with reduced mobility and for children.
Last check
In order to present a good poster for your visitors, you should check these points before installation:
The height of the posters (not too high, not too low);
The operation of the links and the updating of the content;
The readability of the text;    
How media works (photos, videos and audio files).
Need to offer your visitors a digital experience?
Delivering informative, varied and up-to-date content to your customers is an important pillar in stimulating their engagement. MySmartJourney puts its technology to work for the development of your organization. 
Thanks to the ease of use of triggers, you can attract your visitors and direct them to your content in a fun and enjoyable way. A digital signage system also allows you to collect real-time statistics about your visitors' behaviour towards the products or services you offer.
Read the article